Traditionally Basil Pesto Sauce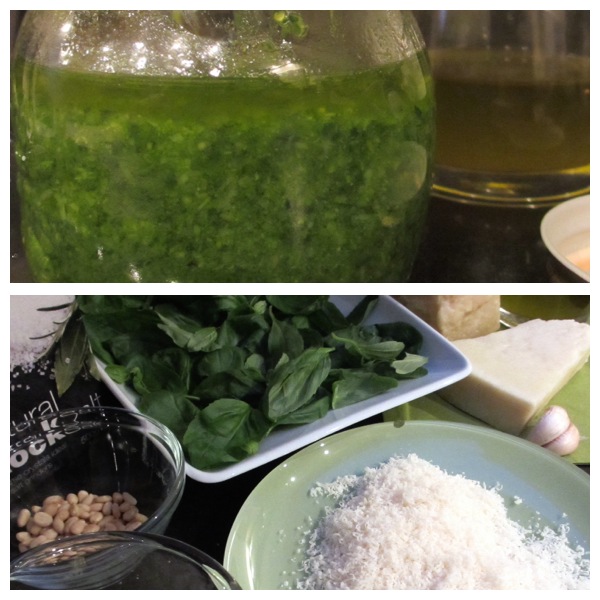 INGREDIENTS:
- 50 g fresh basil leaves
- 2 garlic cloves
- 100 ml extra virgin olive oil
- 1 pinch rocky salt
- 15 g pine nuts
- 30 g grated Italian Pecorino Romano
- 70 g grated Italian Parmesan
WHAT TO DO:
1. Before starting, keep in mind to clean the basil leaves with a wet kitchen towel in order to preserve the aroma of the herbs.
2. Peel the garlic cloves and place them into a mortar together with a pinch of rocky salt.  Smash it until creamy and only then add the basil leaves and another pinch of rocky salt. Grind thoroughly while revolving the pestle until you smash all the leaves.
3. Then add in a sequence the pine nuts, the grated cheeses and the olive oil, always while keeping on mixing the sauce until it becomes like a paste.
4. Serve with pasta, or spread over toasted bread slices.
NOTE: You can also prepare the pesto with a food processor.
In this case, combine the basil with the pine nuts and put everything in a food processor. (If you are using walnuts instead of pine nuts and they are not already chopped, pulse them a few times first, before adding the basil.) Add the garlic and cheese and pulse a few times more.
TIPS & TRICKS:
- This is the very basic recipe for a home-made pesto, quick and easy. It is the original indication from the Italian "Consorzio del pesto genovese" where the recipe was created a long time ago.
- The Italian "Consorzio del pesto genovese" suggests the use of a sweet and mature extra virgin olive oil which can enhance the aroma of the basil and reduce the intensity of the garlic.
- You can freeze the pesto and use it later, or, alternatively, keep it for 2-3 days in the fridge immediately after preparation. If you go for the last option make sure you cover the surface with a layer of olive oil not to have the basil turn dark.
- If you do not have a mortar and pestle and/or prefer to move faster, you can use a food processor. In this case pulse a few times each time you add an ingredient to the mix. Moreover, slowly add the olive oil in a constant stream while the food processor is on.