Who am I? Well, I am Alessandra, call me Ale, and I'm the older daughter of Marcella and the sister of Emanuela, Manu. Manu is the mum of my fantastic two nephews and a niece (This means I am an auntie as well!). You will see many of her contributions in this blog. I am a molecular biologist and I have been working in the pharmaceutical industry since my graduation. Manu is an economist, doing research for developing countries. What???? Yes, I know, it has nothing to do with cooking, right?
But this has a lot to do with me, and with 'us' sisters of course. As previously mentioned, we started talking about and trying to prepare food since we were kids and we went on, and on, and on… Now this is just a passion, and passion can fuel the energy of any project in life!
The 'blog' idea came up last year when I moved to London and started cooking Italian food with the ingredients I could find in the local shops in my area, Chiswick. Sometimes I found it quite difficult to cook Italian and I was forced, eventually, to adapt the original recipe to what was available around me. I didn't want to spend too much time (and money) looking for ingredients imported online or hidden in a 'boutique' shop into town. So, why not helping other people who are struggling to learn Italian recipes at home while not having at hand the right specific ingredient? Is there an alternative way to prepare the dish and get to a nice, 'yummy' result as well? The best way to get the hints you need, I thought, is by getting them from someone who knows what to achieve and in what ways you can adapt the method of cooking. That's all!
Well, actually this is not all…I have to mention my blog 'mentor', psychological and technical support, digital expert, and partner in life…Tim, the 'flying Dutch', without whom this blog could not have come into life! Thank you.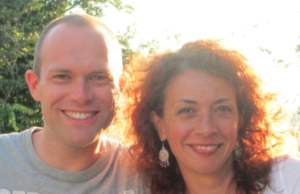 "The only thing to do with good advice is to pass it on. It is never of any use to oneself. Oscar Wilde"