"Fusilli" with king prawns, leeks and hazelnuts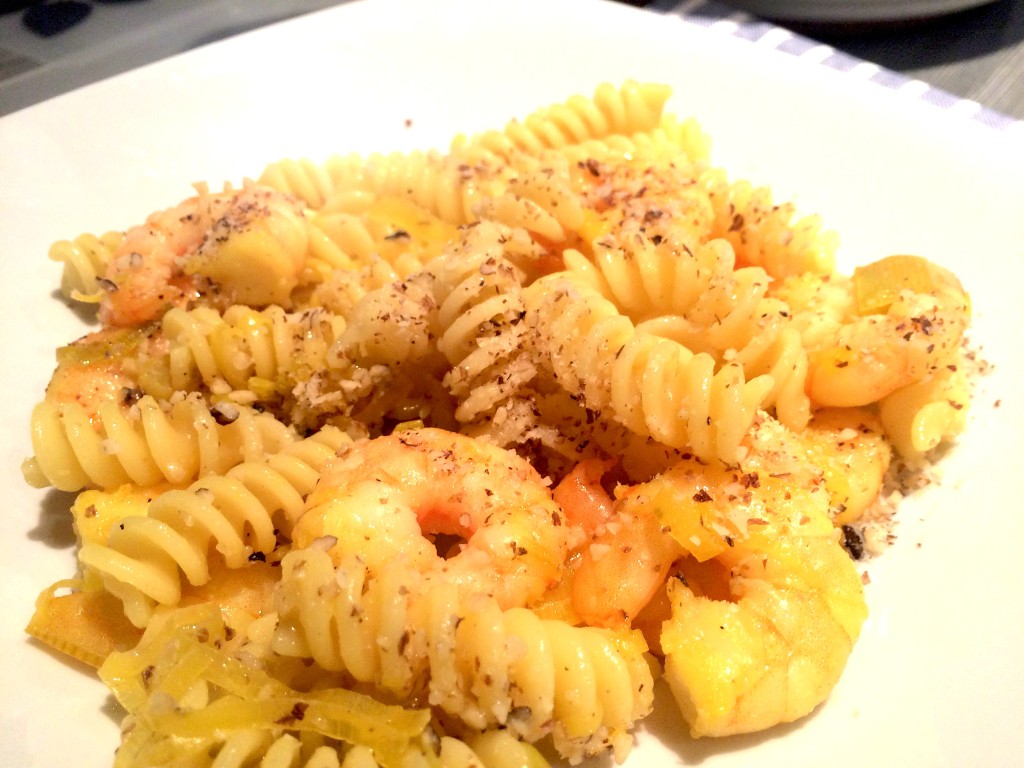 INGREDIENTS (x 4 persons):
- 320 g of Fusilli pasta
- 300 g jumbo King prawns
- 50 g roasted hazelnuts, grinded
- 1 bag of saffron powder
- 1/2 glass of still dry white wine, such as Alentejo or similar
- 1 big leek, thinly sliced
- extra virgin olive oil
- sea salt/fine salt
- black pepper, freshly grounded
WHAT TO DO:
1. Firstly, stew the slices of leek in a slug of olive oil until soft and slightly gold in color. Then add the wine and let it dry out at high heat. After it has cooked, add the saffron, and mix it well with the leek. Take the pan off the heat.
2. In a separate wide saucepan gently pour some olive oil and quickly pan-fry the king prawn at high heat. Adjust with salt as you like.
3. In the meanwhile boil the water for the pasta, add a handful of sea salt and boil the pasta for about 10 min (until 'al dente'). Please remember to check out the cooking time of the pasta on its packaging as it can differ among brands and types of brand.
4. When the fusilli are ready, mix it with the leek and the king prawns. Sprinkle some roasted hazelnuts on top as well as a drop of olive oil and black pepper, freshly grounded. Enjoy it!
 TIPS & TRICKS:
If you want to prepare this dish quicker, you can buy boiled prawns which you can just add to the leeks last minute.
The recipe comes out nicely as well if you use shrimps or crab meat.