Baked "Schiacciatine" with tomato purée, capers and potatoes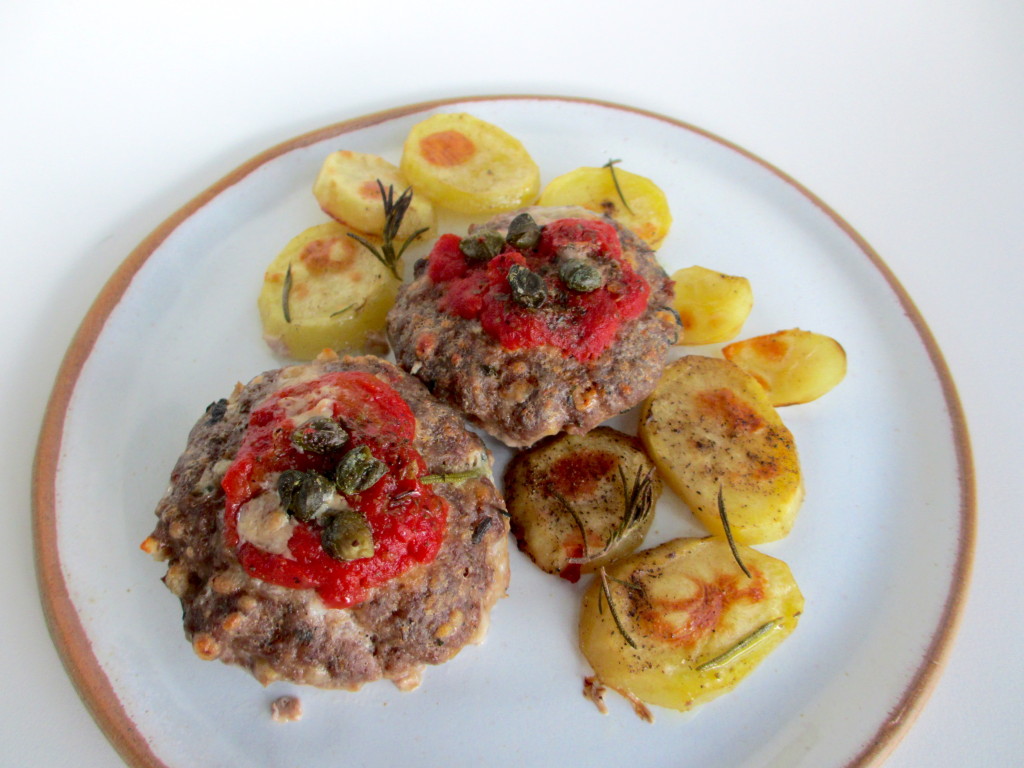 INGREDIENTS (x 6 persons):
- 250 g lean minced beef meat
- 250 g minced pork meat
- 2 big slices white bread (about 150 g)
- 250 ml whole milk
- 1 egg
- 1 garlic clove, thinly chopped
- 1 handful of grated parmesan
- 1 large handful of parsley, finely chopped
- salt/pepper
- extra virgin olive oil
- 6 large potatoes, in thin slices (2-3 mm)
- mixed roast spices
- fresh rosemary brunches
- 6 teaspoons of chopped tomatoes (in can)
- a handful of small capers, in vinegar
- thyme
WHAT TO DO:
1. Chop the bread and place it into a bowl so it can suck up milk.
2. In the meanwhile in a large bowl, thoroughly mix the minced meat with the egg, parmesan, parsley and garlic. Drain the bread from the milk and add it to the mix. Finally, season with salt and pepper.
3. When uniform, take a small amount out of the mix and roll it into the shape of a ball with your hands (that you have made wet with cold water). Then press it in order to get the shape of a rough burger. Repeat the procedure until you finish the mix. Set the burgers aside.
4. Pre-heat the oven at 180°C. Place a baking parchment onto a baking tray and spread some oil with a kitchen brush. Then place the potato slices dressed up with the roast spices, salt/pepper and rosemary leaves. Add the burgers with a teaspoon of tomato chops and capers, and then sprinkle thyme on top.
5. Bake everything covered with aluminium foil until the potatoes get tender. Remove the foil and grill at medium heat to get them crusty. I love it!
TIPS & TRICKS:
- This recipe directly relates to my childhood memories mainly because my mum prepared them to make meat more attractive for us to eat. Now we adore it!
- Basically it uses the 'schiacciatine' recipe already published on this blog but without breadcrumbs.
- If you have more time, I suggest you to pre-steam the potatoes and to slice or chop them just before baking.