Chicken chunks and avocado salad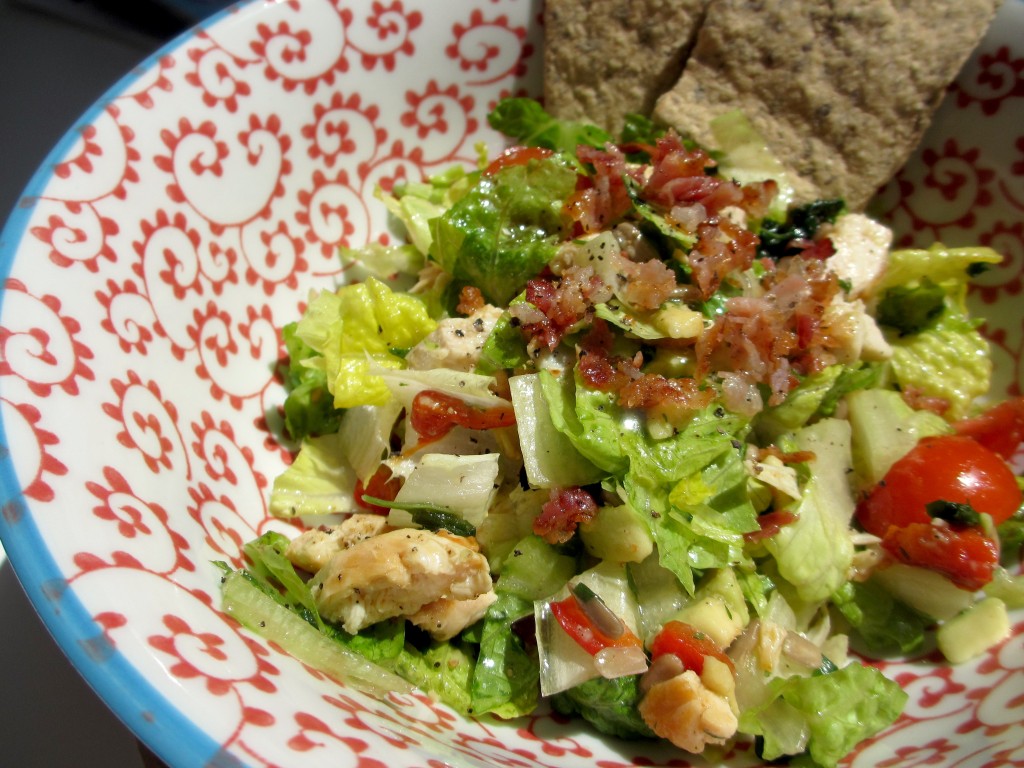 INGREDIENTS (x 4 persons):
- 1 large head of Iceberg lettuce, in small chops
- 2 fillets of organic chicken breasts
- ½ red pepper, thinly sliced
- 10 cherry tomatoes cut in halves
- 1 handful of flat parsley
- 2 tablespoons of sunflower seeds
- 1/2 freshly-squeezed large lemon juice
- 3-4 slices of Italian pancetta slices
- 1 small, mature avocado pulp, into small pieces
- 1 garlic clove (optional)
- extra-virgin olive oil
- salt
- freshly ground black pepper
WHAT TO DO:
1. Preheat the barbecue, or griddle, to high temperature. Grill the chicken breast fillets until golden, then set these aside.
2. Meanwhile combine the lettuce with the peppers, the avocado, the cherry tomatoes with the sunflower seeds and the parsley. After this add the chicken, chopped into small bits.
3. In a separate non-sticky pan, cook the pancetta slices at high heat until crispy. Remove and place them on a kitchen paper foil to absorb the excess oil. Then cut them into small pieces.
4. Dress the salad with salt and pepper, lemon juice, extra-virgin olive oil and finish by garnishing with the pancetta crumbles. Enjoy your party!
TIPS & TRICKS:
- This dish is a very fresh, quick one for the summers.
- You can use a fresh pepper or a grilled and peeled one, according to your taste and the time you have to prepare it.
- It is not always easy to find Italian pancetta, or otherwise Italian speck ham, everywhere. In Northern countries, such as UK, bacon is a very good alternative.