Pan-fried scallops in speck wrap, on a potato and fennel purée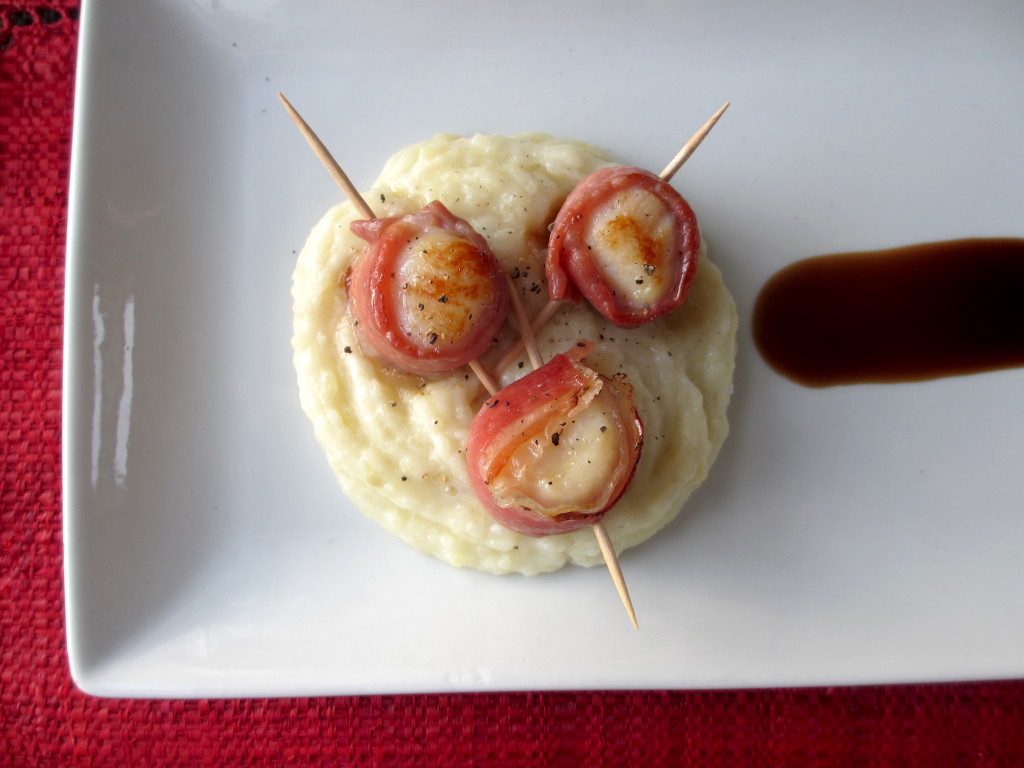 INGREDIENTS (x 4 persons):
For the scallops
- Extra virgin olive oil
- 8 large or 12 small, cleaned scallops removed from shells
- freshly ground black pepper
- ½ lemon, juice only
- a glass of Brandy liquor
- 4 thin slices of Italian speck ham
For the potato and fennel purée
- Extra virgin olive oil
- 2-3 potatoes, into chunks
- salt/pepper
- whole milk
- 1-2 shallots, finely sliced
- 1-2 fennel bulbs, cored and roughly chopped
- vegetable stock in powder
- 3 teaspoons unsalted butter
Balsamic cream for decoration.
WHAT TO DO:
For the scallops, heat a little olive oil in a non-sticky pan over medium heat. Season the scallops with freshly ground black pepper, and then wrap them in half a slice of Speck ham. This will give some extra flavour to the fish. Place them into the pan, sliced-side down, and pour the brandy. Cook until golden-brown, about 1-2 minutes at high heat. Turn the scallops on the other side and reduce the heat. Take extra care to not overcook them.
Remove the scallops from the pan and place them onto a tray with kitchen paper. Squeeze a few drops of lemon juice over the scallops.
For the potato purée, fill a large pot with about 2 inches water. Add potatoes to a steamer basket and steam until tender, 20 to 30 minutes depending on their size.
Meanwhile, melt the butter in a saucepan over medium heat. Remove the potatoes from the steamer basket. Drain, and immediately press through a medium mesh sieve into the saucepan where you put the butter. Adjust creaminess with whole milk. Season with salt and pepper and set aside.
To make the fennel purée, add 2 tablespoons of olive oil to a deep saucepan over medium heat, add the shallot and cook for about 1 minute. Add the fennel and keep on cooking for a few minutes, while stirring, until both shallot and fennel are translucent. Add the stock powder and allow simmering until soft. Note that the liquid should reduce by two-thirds, which generally takes 10-15 mins. Remove from the heat, transfer the mix into a blender and then mix it with the potato purée. Set aside, keeping warm.
To serve, place some fennel and potato purée onto each plate. Place the scallops on top and decorate with some balsamic cream.
TIPS & TRICKS:
- You can substitute the Italian Speck ham with delicate English bacon.
- You can also make a purée only with fennels or only just potatoes, depending on your personal taste. A good alternative is celery in place of the fennel.