"Tagliatelle al Ragù" – Marcella's way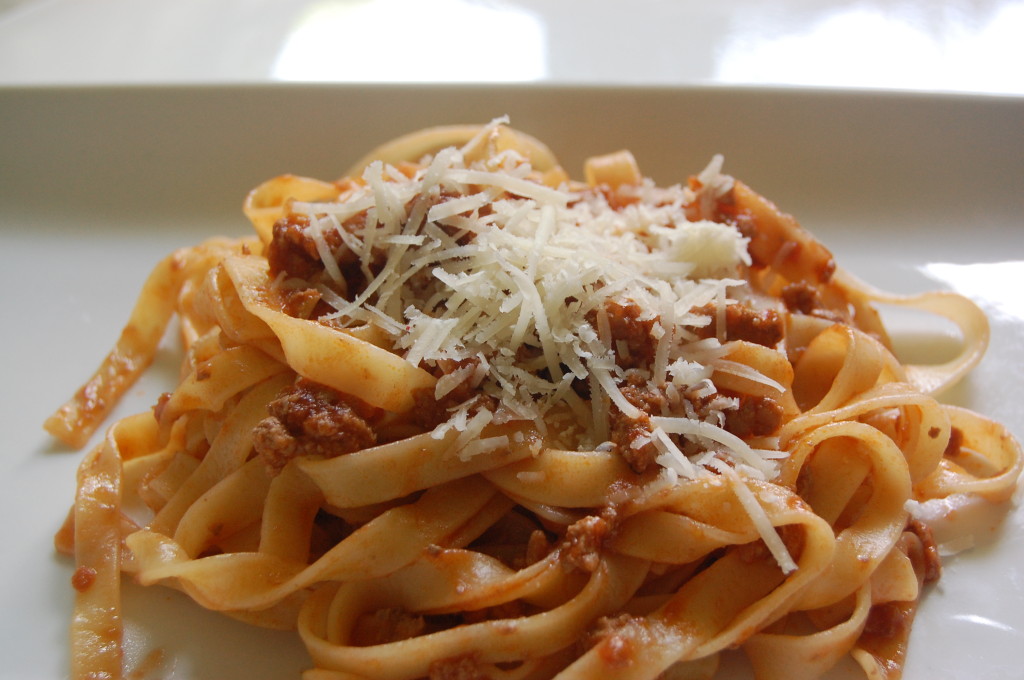 INGREDIENTS:
For the Ragù (x 10 persons)
- 1 large handful of "soffritto" base (chopped onion, celery, and carrot)
- Extra-virgin olive oil
- 400 gr minced beef meat
- 400 gr minced pork meat
- 800 ml of Italian tomato sauce ("passata")
- 2 glasses of red wine
- salt/pepper/nutmeg
For the Pasta (x 4 persons)
- 320 g Tagliatelle
- 1 large handful of grated parmesan
- 1 tablespoon of unsalted butter
- sea salt
WHAT TO DO:
For the Ragù
1. Sweat the "soffritto" base with a fair amount of olive oil in a deep pan.
2. Add the minced meat with a rich amount of freshly grinded nutmeg. Add the wine and let the wine evaporate at high temperate. Pour the tomato sauce and add some salt and pepper.
3. Let it cook at low fire until the sauce is creamy for about  ½ – 1 hour.
For the Pasta
1. Put a deep pan of water on a fire, cover with a lid and let it get up to boil. When boiling, bring down to a gentle boil and add a handful of sea salt. Let the water get back to boiling before adding the pasta. Check the boiling time on the packaging of the pasta, but start tasting the pasta for 'al dente' in the last minute or two
2. When the pasta is ready, get rid of the water
3. Add the sauce to the pasta. Make sure to add some butter and the parmisan. Gently mix all together…and enjoy it!
TIPS & TRICKS:
- Start preparing the sauce well in advance as it takes some time!
- The left over sauce can be frozen and used when needed other times.
- Use the ragù in rich quantities to dress tagliatelle or other types of short Italian pasta. One of the best combinations of pasta and ragù is with Lasagne!
- You can find a good "soffritto" base in your local supermarket. If not, you can use an electric chopper at home by adding an equal amount of the 3 veggies (onion, celery, carrot).
- The nutmeg can be found in powder (easy!) as well as in a dry nut version. You will need to grind the dry nut into powder yourself.
- The typical italian basic tomato sauce is called 'passata'. Sometimes you can find it named liked this in your local shops.