"Fusilli " in a Pesto sauce with tuna fish and 'Bottarga' – Lori's way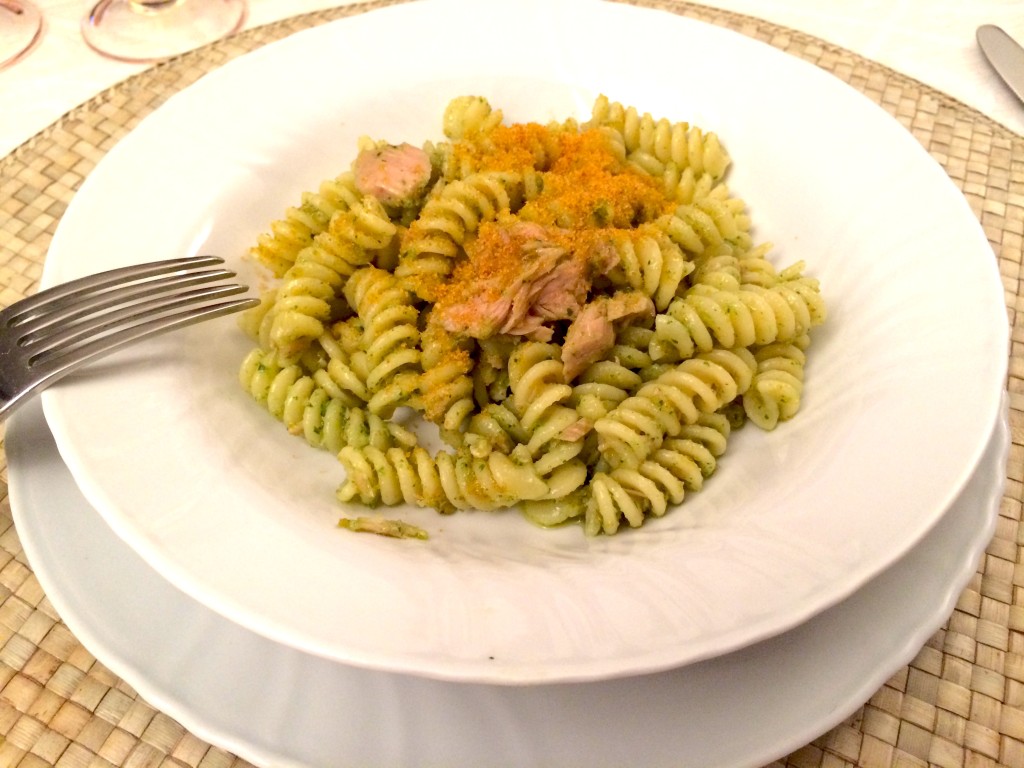 INGREDIENTS (x 4 persons):
- 320 g of Fusilli pasta
- 140 g Pesto sauce 'alla Genevese' (see recipe)
- 200 g tuna, in olive oil
- 4 tablespoons of gray mullet 'Bottarga'
- extra virgin olive oil
- sea salt/fine salt/
- black pepper, freshly grounded (as you like)
WHAT TO DO:
1) Take a big deep pan and bring the water for the pasta to boil. When boiling, add a handful of sea salt and let it go back to boil before adding the Fusilli pasta.
2) In the meanwhile put the pesto sauce on the bottom of a deep serving dish with a drizzle of extra virgin olive oil. Add the tuna chunks after draining them from the oil (in its can) and chop them into smaller pieces.
Cook the pasta 'al dente'.
3) When ready, drain the Fusilli from the water. Remember to keep aside a small bowl of the cooking water. You will need one or two tablespoons of this water to blend the pasta with the pesto-based sauce.
4) When properly mixed together, serve immediately with a generous sprinkle of 'Bottarga', if you like, black pepper.
TIPS & TRICKS:
- Pasta 'alla Carlofortina' is the source of inspiration for this recipe.
- 'Bottarga' is considered a "caviar" from Sardinia, often called the 'poor men's caviar'. It s a dense fish roe made from tuna, gray mullet or swordfish. It is very popular in Sicily and Sardinia even though it can be found throughout the Mediterranean.