Filo 'tissues' with Buffalo mozzarella, grilled aubergines and pesto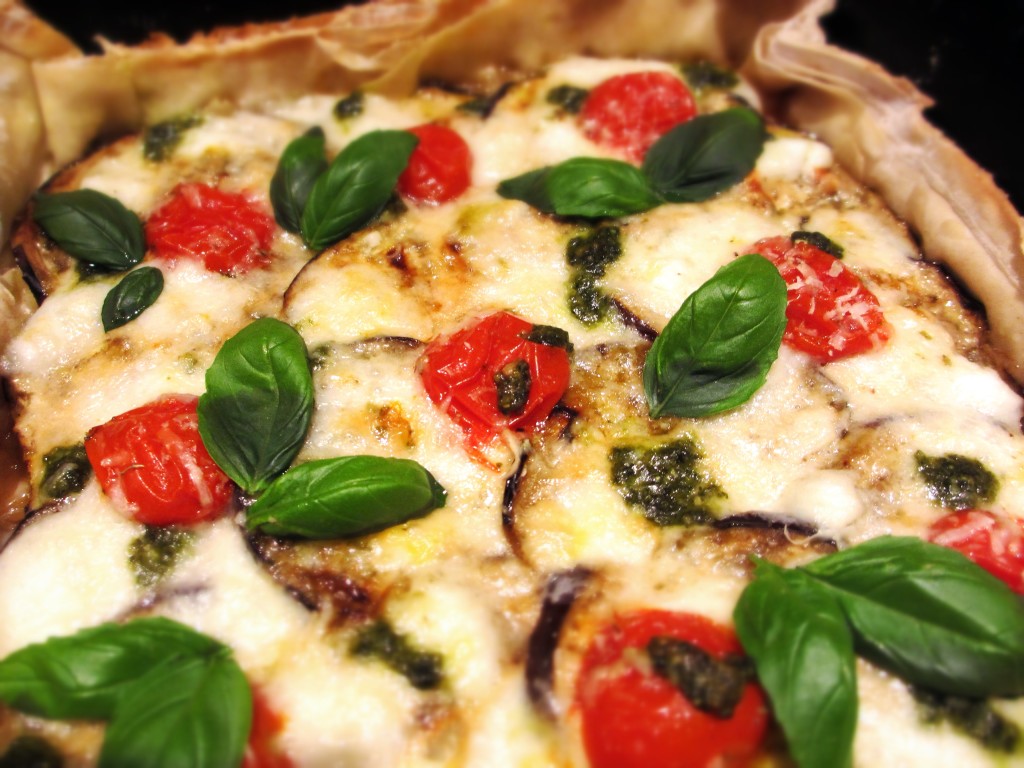 INGREDIENTS (x 4 persons):
-       280 g Filo dough
-       1 big Buffalo mozzarella, roughly diced (about 80g)
-       1 large aubergine
-       a handful of fresh basil leaves
-       a handful of grated old Pecorino cheese
-       8-10 cherry tomatoes
-       6 teaspoons of pesto sauce
-       salt
-       extra virgin olive oil
WHAT TO DO:
1. Switch on the oven to about 180°C.
2. Cut the aubergine into thin slices and grill them in a non-sticky grilling pan. Dress them with a pinch of salt and olive oil.
3. Take out the filo dough sheets from the fridge and get them to room temperature. Make sure the sheets don't get too warm, because you will not be able to knead the dough for stickiness otherwise.
4. Lay the sheets carefully in a squared baking tray (about 40 cm side), where you have also spread some olive oil previously to avoid sticking.
5. Lay down the slices of aubergine at the bottom. On top of them, spread around the Buffalo mozzarella dices and the cherry tomatoes cut in halves. Sprinkle the veggies with the grated Pecorino cheese, a drizzle of olive oil and the pesto sauce, evenly distributed.
6. Cook in the hot oven until the pastry is gold in colour.
TIPS & TRICKS:
- You can get to a nice alternative by using the pizza dough or the puffy pastry in place of the filo dough. The result will come out slightly different but as tasty as the original version.
- It can be used as a main dish or as a bite during a party.