Strawberry sorbet Tiramisù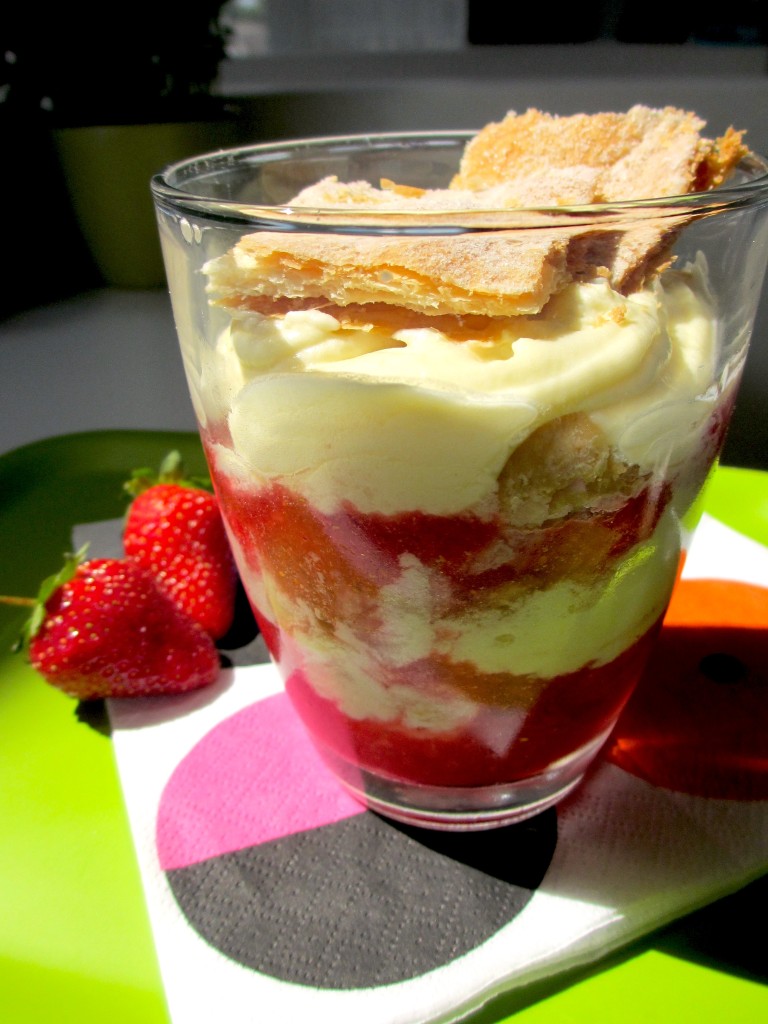 INGREDIENTS (x 4 persons):
- 100 g puff pastry
- 500 g strawberries
- 300 g mascarpone cheese
- 3 medium-sized free range eggs (3 yolks + 3 egg whites)
- 175 g caster sugar
- powdered sugar (icing sugar)
- few fresh mint leaves (to decorate)
- a teaspoon of Cognac or dark Rum (optional)
WHAT TO DO:
1. Roll out the puff pastry in a thin layer and place it on a baking paper. Prick the dough with a fork and sprinkle the top with a generous amount of powdered sugar. Bake it for 10-12 minute in a pre-heated oven at 200°C until it appears gold and crispy. When ready, take it out from the oven and cool it down.
2. Separate the eggs and whisk the whites in a separate bowl until stiff. Thoroughly beat the yolks with 75 g of caster sugar until pale and fluffy and gently add the mascarpone. Please try to mix carefully in order to keep the softness of the eggs. Avoid leaving clumps of mascarpone in the mix. Add the whisked whites and stir gently. Keep the cream in the fridge before combining the different ingredients in the Tiramisù cups.
3. For the strawberry sorbet, make a puree by mixing 200g of strawberries with the remaining 100g of caster sugar in a blender. If you like, you can add a teaspoon of Cognac or Rum. Pour this puree into a pastry bag.
4. Chop the rest of strawberries into smaller pieces.
5. To assemble the dessert, take a transparent cup or glass, and pour a first layer of strawberry sorbet on the bottom. Then add a handful of chopped strawberries, the mascarpone cream and finally some pieces of puff pastry roughly broken into smaller bites. Repeat with the same layers to finish with the puff pastry. Keep it cold in the fridge for few hours before serving.
6. Just before serving, dust the top of the tray with the cocoa powder and decorate with few fresh leaves of mint.
TIPS & TRICKS:
- This new version of Tiramisu was inspired by Teresa Covaceuszach ,who runs a trattoria "Al Sale e Pepe" in Stregna close to Udine in Italy. Thank you, chef!
- This dessert comes out better if prepared the day before your party. It will taste nicer too, believe me!