'Tortiglioni' with fine asparagus and soft cheese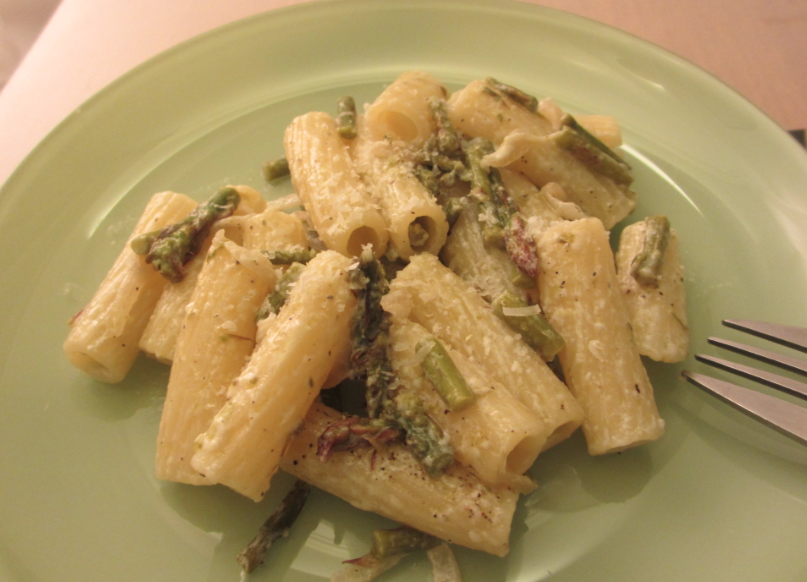 INGREDIENTS (x 4 persons):
- 125 g tender sweet fine asparagus
- 2 shallots, thinly chopped
- 1 glass of Italian wine 'Ribolla gialla'
- extra virgin olive oil
- salt/ground black pepper
- 1 large handful of grated Parmesan
- 1 tablespoon of fat, soft cheese
- 350 g of tortiglioni pasta
- sea salt
WHAT TO DO:
1. Start by chopping the asparagus into pieces and place them in a separate bowl.
2. In a frying pan, sweat the shallots in 2-3 tablespoons of olive oil. Then add the asparagus chops and a pinch of salt. Cover the pan with a lid and cook at medium heat for about 10-15 minutes, stirring from time to time.
3. Then add the glass of wine and let it dry out softly. Stop cooking only when the asparagus' stems have become softer.
4. In the meanwhile, put a deep pan of water on a fire, cover with a lid and let it get up to boil. When boiling, bring down to a gentle boil and add a handful of sea salt. Let the water get back to boiling before adding tortiglioni pasta.
5. Throw the pasta into the boiling water and let it cook until 'al dente'.
6. When ready, drain it and mix it into the frying pan with the asparagus base on a low heat. In order to make it creamer, add the tablespoon of soft creamy cheese together with the grated Parmesan and some black pepper. Serve it with a drizzle of olive oil.
TIPS & TRICKS:
- The white wine made from the Ribolla grape is typically a deep colored, light bodied wine with high acidity and floral notes. It is not difficult to find here in London but if you cannot find it in your local market, try to choose something similar to give the same flavour to your sauce. You could otherwise use a white floral wine from the north of Italy, such as from Tyrol or Collio area, or from South Africa.
- If you want to get an even creamier result, you can increase the amount of soft cheese but try not to make it dominate the flavour of the asparagus. Alternatively, you can use crème fraiche.