Swordfish pasta – Gaeta's way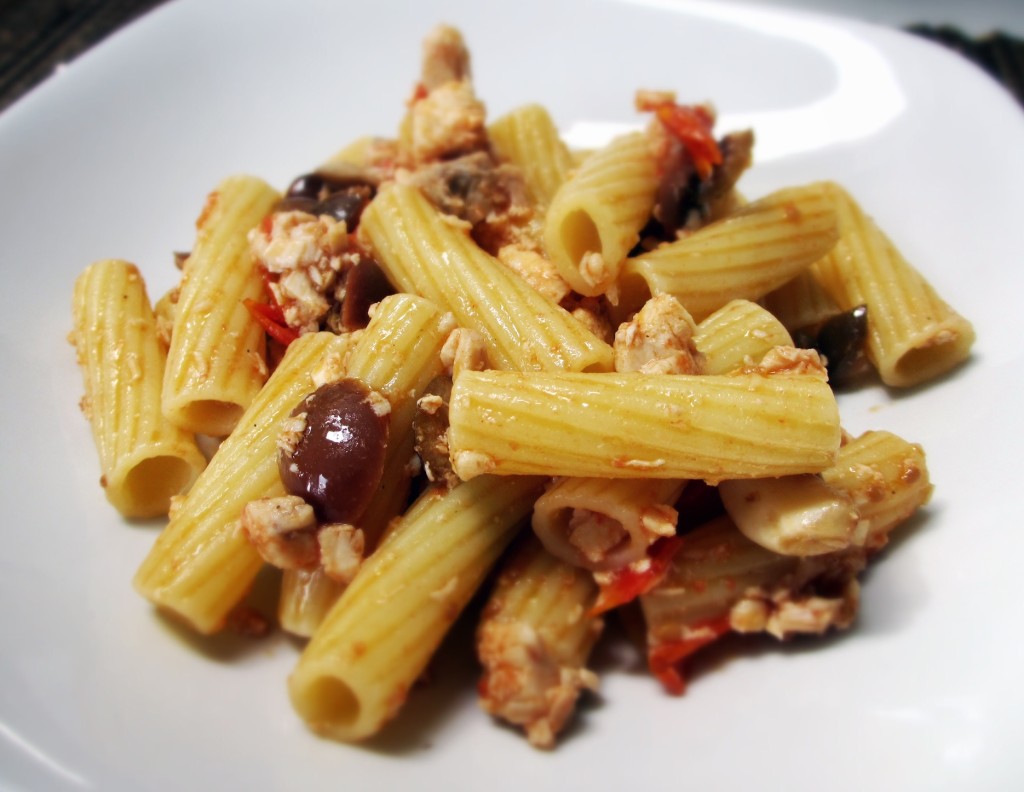 INGREDIENTS (x4 persons):
- 1 garlic clove
- extra virgin olive oil
- chilli pepper powder or dry chilli seeds
- 1 thick slice of freshly-caught swordfish, roughly cut in small pieces
- 1 small handful of capers
- half a dozen Gaeta olives – or any other red / light-brown Mediterranean olives, without the pit, and roughly chopped
- 1 handful of cherry plum tomatoes, cut in 2 parts
- 1 small handful of grated Parmisan (optional)
- 320 g of short pasta (penne or maccheroni or ditali)
- salt
WHAT TO DO:
1. In a pan, sweat the garlic clove in abundant olive oil and a pinch a chilli pepper powder.
2. Add the swordfish bites, the capers, the olives, the cherry tomatoes and a pinch of salt. Let it cook with a lid at high heat for about 5 minutes. Then slow down the heat, take out the garlic clove and let it stay until the pasta is ready.
3. In the meanwhile put a deep pan of water on a fire, cover with a lid and let it get up to boil. When boiling, bring down to a gentle boil and add a handful of sea salt. Let the water get back to boiling before adding the pasta. Check the boiling time on the packaging of the pasta, but start tasting the pasta for 'al dente' in the last minute or two.
4. When the pasta is ready, get rid of the water, and add the sauce to the pasta. Make sure to add some parmisan (optional) and a drizzle of olive oil. Enjoy!
TIPS & TRICKS:
- This dish only comes out nicely when the fish is fresh and high quality!
- A nice alternative fish is fresh tuna.