Supplì di riso – mamma's way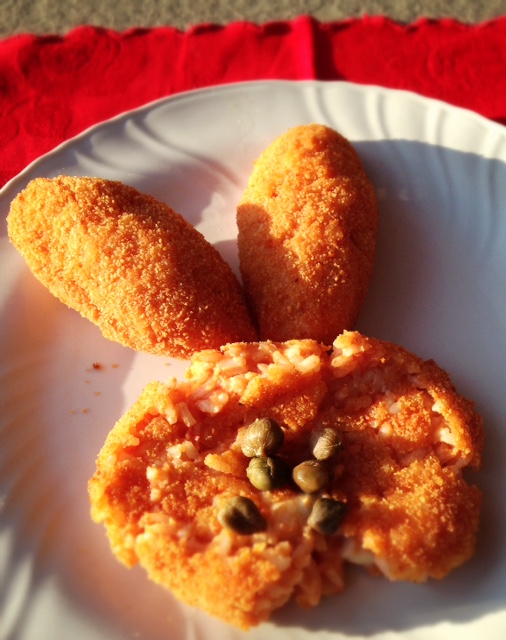 INGREDIENTS:
- 500 gr rice carnaroli or vialone
- 250 gr tomato sauce (see basic recipe)
- 1 tablespoon of unsalted butter
- 100 gr mozzarella, roughly chopped into small cubes
- a large handful of plain breadcrumbs
- 2 eggs
- 1 handful of small capers (optional)
- 200 gr gated Parmesan
- Salt and pepper
- Sunflower oil for deep frying
WHAT TO DO:
1. Boil the rice in salted water, drain it when ready and mix it with the tomato sauce until red. Make sure not to pour too much sauce and get it too 'wet' otherwise it will open up during frying.
2. Beat the eggs with a whisker and add a pinch of salt.
3. Mix the eggs with the rice, add the Parmesan and the butter, salt and pepper.
4. Let the mix cool down in order to be able to mould it later. When it gets it to a warm temperature, wet the palm of your hands, pick up a scoop of the mix and make an oval shape in your hand. Make a small hole in the center and place in it 1-2 cubes of mozzarella. Close and roll your first "suppli" on a bed of breadcrumbs.
5. Repeat until you finish the mix, deep fry the supplis in hot oil until golden. Serve them warm with a few capers on the side.(optional)
TIPS & TRICKS:
- If the mix is too 'wet/watery add an egg or one or two spoons of breadcrumbs before rolling the supplis.
- You can vary the recipe with ragu or tomatoes and peas sauce instead of the tomato or other cheese instead of mozzarella . I personally prefer the simplest version.
Kids will love them anyway!!