Pennette with smoked salmon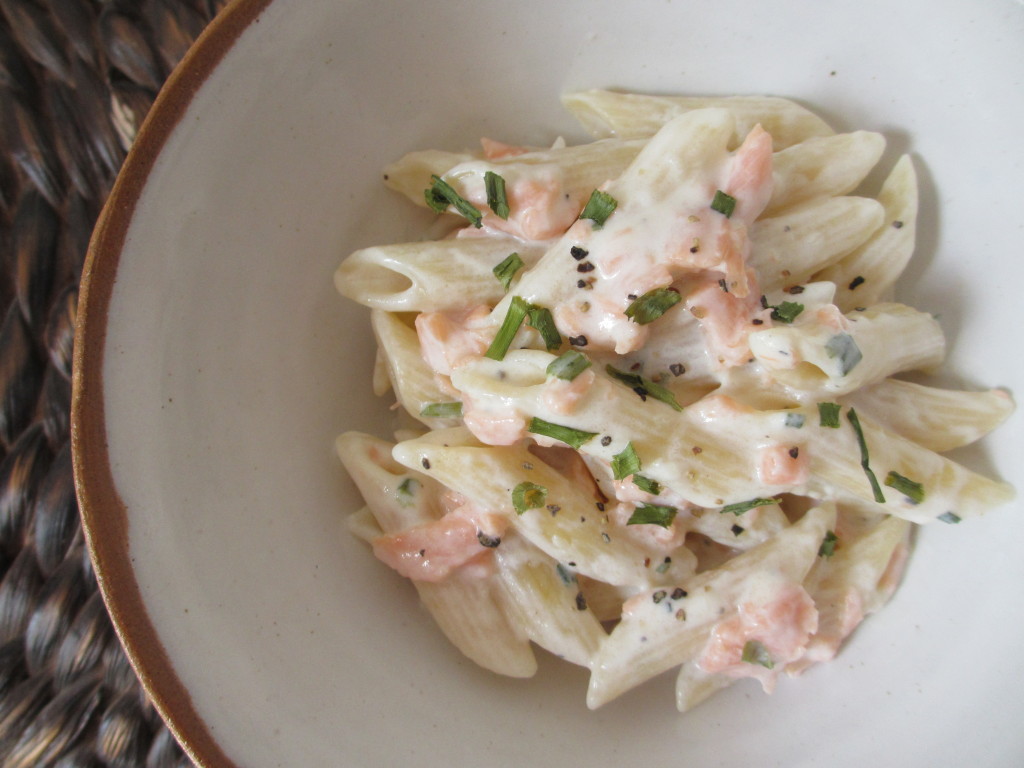 INGREDIENTS: (x 4 persons)
- 320 g of pennette pasta
- 100 g of smoked salmon, in slices
- 70 g of fresh creamy cheese (Philadelphia-like)
- salt/sea salt/black pepper
- 1 tablespoon of chives (fresh and chopped or dried)
- a sprinkle of lemon juice
- extra virgin olive oil
WHAT TO DO:
1. Cut the salmon slices in smaller pieces and place them in a bowl with the lemon juice and the chives. Let them marinate until ready to mix it with the pasta. I would suggest around 15-20 minutes.
2. In the meanwhile, put a deep pan filled with water on a fire, cover with a lid and  get it to boiling point. When boiling, bring down to a gentler boil and add a handful of sea salt. Let the water get back to boiling before adding the pennette. They will be ready in about 10-12' (depending on the brand you have chosen).
3. Few minutes before taking out the pasta, mix the cream cheese with the salmon and adjust the density by adding some water from the pan in which you are boiling the pasta. Mix the sauce with the pennette , drizzle it with some chives and a some black pepper, and serve it warm.
TIPS & TRICKS:
- If in a hurry, you can skip marinating the fish and use it straight from the pack.
- A nice alternative to the chives could be parsley. Coriander doesn't work well as it is too strong in flavour and can dominate the salmon flavour.
- Farfalle pasta or any other kind of short pasta can be used if pennette are not sold in your local supermarket.