Leeks and carrots cream with coarse-grained bread balls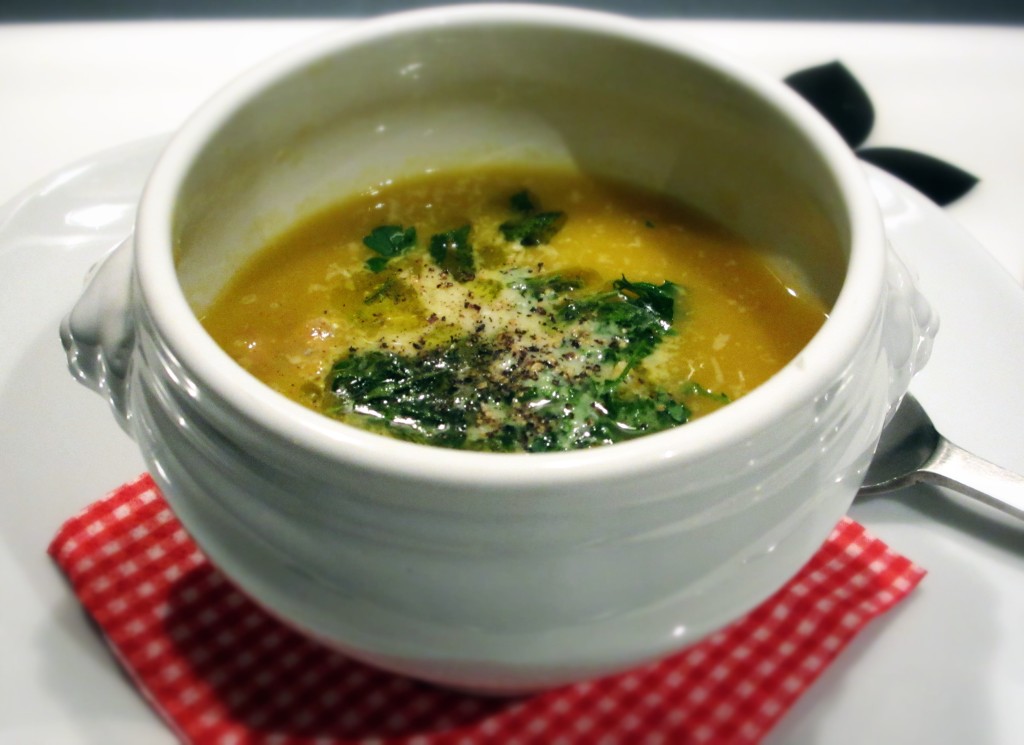 INGREDIENTS (x 6 persons):
- 500 g leeks
- 350 g carrots
- 150 g mixed grain flour
- 1 egg
- 2 garlic cloves
- 1 large handful of mixed sage, rosemary, thinly chopped
- 1 handful of parsley, thinly chopped
- 2 l meat bouillon
- extra virgin olive oil
- salt, ground pepper
- 1 large handful of grated Italian Parmesan
WHAT TO DO:
1. Slice the leeks and the carrots in thin rings and stew them in olive oil together with the garlic, which has to be thinly chopped.
2. Add the meat stock, cover the pot with a lid, and cook it slowly on medium fire.
3. In the meanwhile knead the flour with the egg, a pinch of salt and a little water, enough to get a homogeneous and compact mix. Make sure the pastry mix is dry enough and not sticky. Roughly grate it into clumpy pieces with a coarse grater.
4. After boiling the soup for about 1 hour, gently throw the pastry clumps in the soup. Three minutes after the soup is back to boil, switch the fire off.
5. Dress the soup with seasoned hot oil, which you can make by stir-frying a large handful of sage and rosemary in olive oil for few minutes at low heat. Finish with ground pepper, chopped parsley and a tablespoon of grated Parmesan.
TIPS & TRICKS:
- In order to shorten the procedure, prepare the meat bouillon by using stock cubes in hot boiling water.
- A nice alternative is to spread 'quenelle' or little scoops of Italian robiola (or any other fresh soft and creamy goat cheese) previously mixed with the sage and rosemary mix on top of the soup.