'Trofie' pasta with long beans and potatoes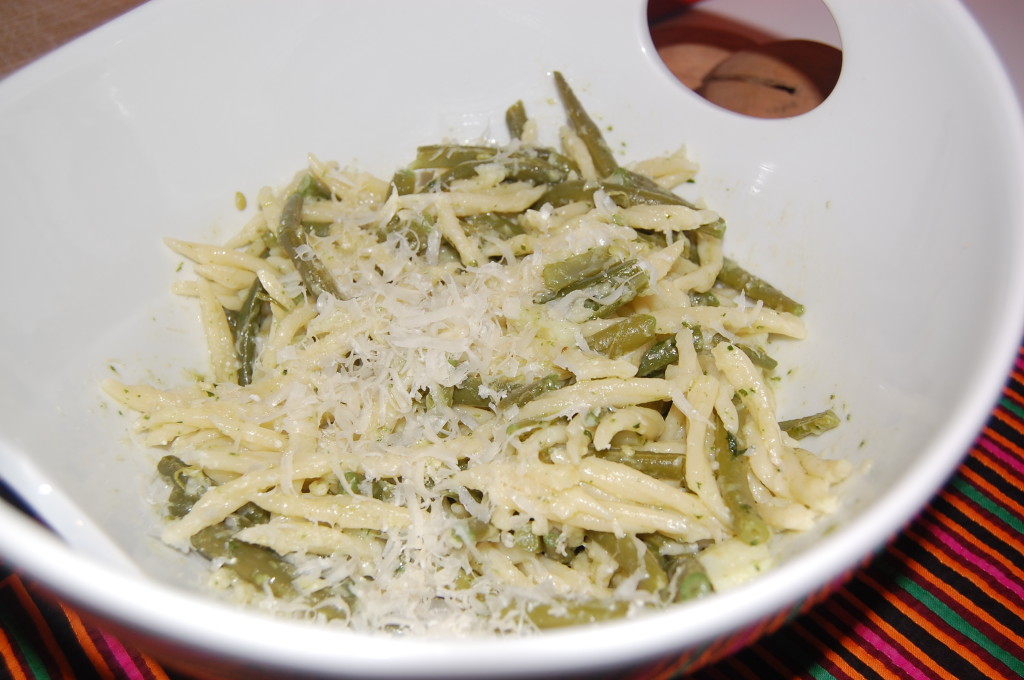 INGREDIENTS (x 4 persons):
- 350 g of 'Trofie' pasta
- 150 g long beans
- 150 g potatoes
- 2 tablespoons of Italian 'pesto' (see recipe)
- extra virgin olive oil
- sea salt/fine salt/
- 1 handful of Parmesan or mature Pecorino
WHAT TO DO:
1. Wash the long beans under running water and trim the tips. Peel the potatoes and chop them into smaller dices.
2. In a large deep pan, bring the cold water to boil and add a tablespoon of sea salt before putting in the long beans and the potatoes chops. After about 5 minutes boiling, add the Trofie and let them cook for about other 10 minutes. Please remember to check the cooking time of the pasta on its packaging as the cooking time can differ from brand to brand.
3. Drain the water and mix the pasta and the vegetables with the pesto sauce, some fresh olive oil and a generous handful of Parmesan (or mature Pecorino). Serve it immediately.
TIPS & TRICKS:
- This is one of the most traditional recipes from Liguria in the North-west of Italy, but it is well known and used all over the country.
- Keep aside some of the cooking water to use it later when dressing the pasta with the pesto sauce. This allows you to adjust the density of the sauce according to your taste.
- For a better result, make sure you purchase high-quality products – from the olive oil to the cheese, but also fresh basil to make the pesto sauce.