'Torta salata' with courgettes, Feta and Gruyere cheese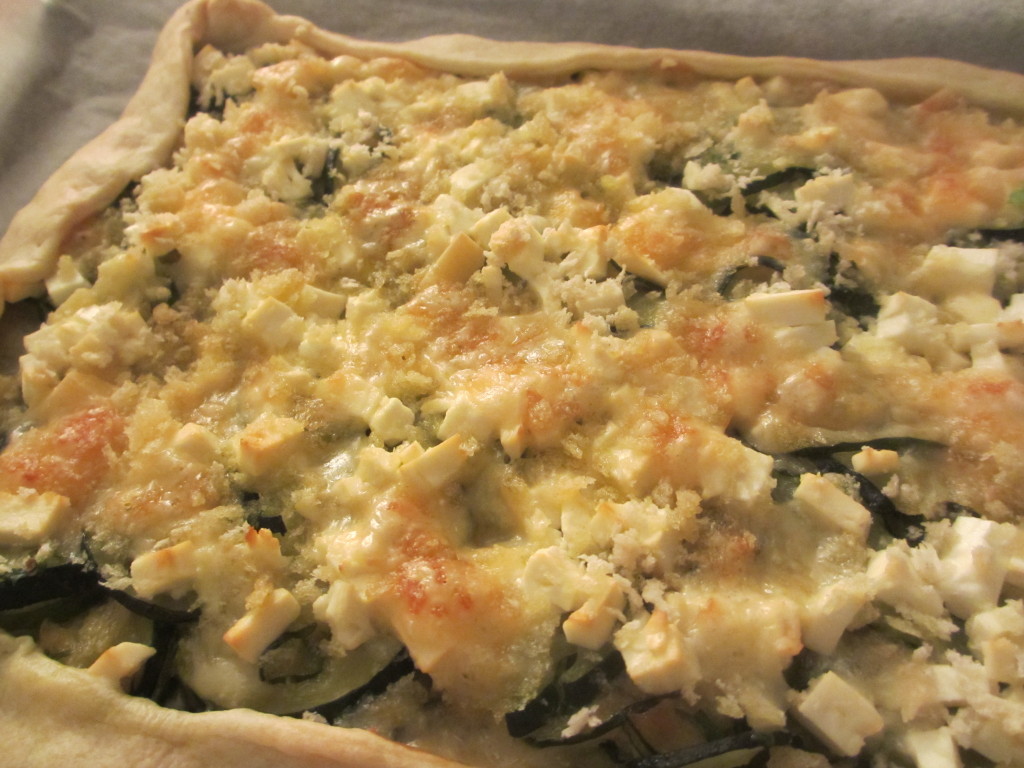 INGREDIENTS (x 8 persons):
- 1 roll of short crust pastry
- 2-3 big courgettes, roundly sliced
- 100 g of Gruyere cheese, chopped in small pieces
- 100 g of Feta cheese, chopped in small pieces
- 1 garlic clove
- 1 handful of finely chopped parsley
- 1 handful of plain breadcrumbs
- extra virgin olive oil
- salt
- ground pepper (optional)
WHAT TO DO:
1. Switch on the oven at about 180°C. In a separate saucepan, sweat the garlic clove in some olive oil as a whole or thinly sliced.
2. Add the courgettes, adjust with salt and let them cook until soft. Add the parsley when the dish is nearly done.
3. Remember to take out the crust pastry roll from the fridge about half hour before using it. Let it get to room temperature.
4. When the courgettes are ready and slightly cooled down, lay the pastry on a baking tray covered with baking paper.  Spread evenly the courgettes, the two cheeses, and on top of it a sprinkle of breadcrumbs with olive oil and black pepper (optional).
5. Cook into a pre-heated oven until the pastry is golden.
TIPS & TRICKS:
- A nice alternative can be obtained by using the puffy pastry in place of the short crust pastry. The result will come out slightly different but as tasty as the original version.
- Cut it in small squares and serve it warm as a bite for an aperitivo or during a party.