Torta con crema e pinoli/Cream and pine nuts tart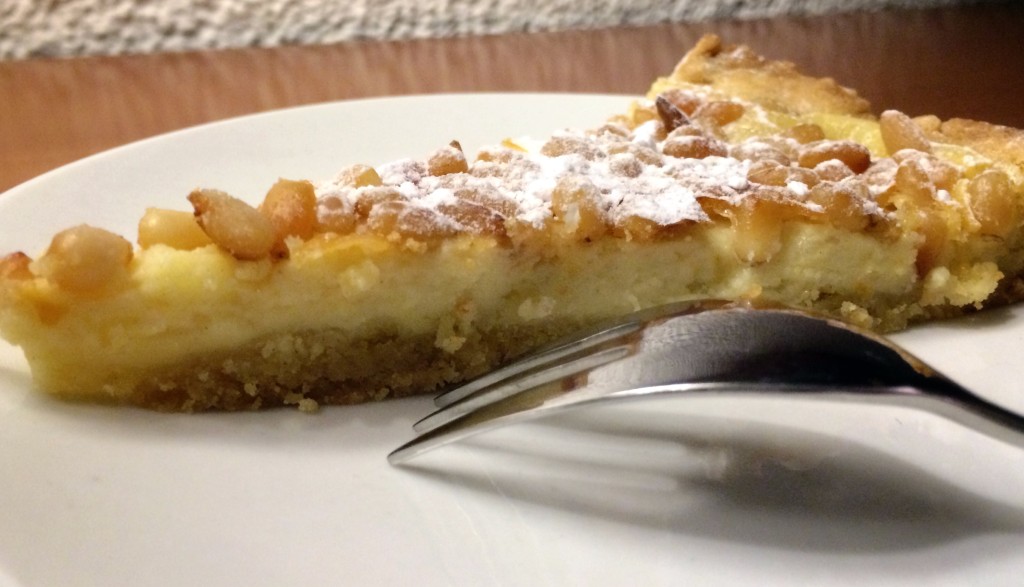 INGREDIENTS (x 8 persons)
For the dough base ("Pasta Frolla")
- 200 g non-raising plain flour ('00')
- 50 g potato starch
- 120 g unsalted butter
- 80 g caster sugar
- 2 egg yolks
- 1 pinch of salt
- 1 bag of vanilla powder
- 1 lemon
For the cream
- 300 ml of whole milk
- 200 ml single cream
- 40 g non-raising plain flour ('00')
- 3 egg yolks
- 80 g caster sugar
- 100 g pine-nuts
- 2 tablespoon of confectioners sugar (to decorate)
WHAT TO DO:
For the base of dough: Take out the butter from the fridge, dice it into smaller pieces and let it soften up a little bit at room temperature. In a large bowl, mix the flour with the potato starch, a pinch of salt, the sugar, the vanilla powder, the yolks, the grated zest of the lemon and the diced butter. Mix everything until you have a smooth 'paste'. Wrap the dough in transparent food foil and let it rest in the fridge for at least 30 minutes (2-3 hours would be even better).
Before putting the cake together, start preparing the cream. Only when you have prepared the cream you can take out the dough from the fridge. Don't forget to pre-heat the oven at 180° C then as well.
For the cream: In a small pan warm up the milk with the single cream. In the meanwhile, in large bowl start whisking the eggs until soft and foamy. Add the sugar and the flour. Then toss  the milk little by little making sure no lumps form in the cream.  Bring everything to boil and add the grated zest of a lemon.  Let it boil for about 5 minutes.
Choose a round baking pan (about 22 cm diameter), spread some butter evenly on the bottom and the borders and sprinkle some flour to avoid sticking.  Discard the excess flour. Cover the base and the borders of the baking pan with the dough, spread the cream evenly and place the pine nuts on top to cover the entire surface. Cook in the oven for about 50 minutes at 180°C.
Serve it warm with a sprinkle of confectioner's sugar on top.
TIPS & TRICKS:
I would admit this is one of my favourite cakes, I simply love it. It is not too sweet and the roasted pine nuts on the top adding a particular background flavour to the lemon sensation of the cream.