Tomato and ricotta "torta salata"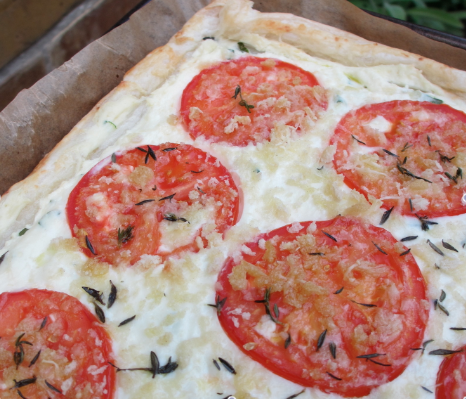 INGREDIENTS (x 6 persons):
- 1 roll of puff pastry
- 2 eggs, white and yolk
- 500 g ricotta cheese
- 1 mature savoury round tomato, thinly sliced
- 1 handful of grated Parmesan
- 50 g of Italian Provolone or Scamorza cheese, in tiny chips
- a handful of fresh basil leaves
- extra virgin olive oil
- salt
- ground pepper (optional)
WHAT TO DO:
1. Take out the puffy roll from the fridge about 30 minutes before using it.
2. In the meanwhile, whisk the eggs with a pinch of salt into a bowl.
3. Add the ricotta cheese, the grated Parmesan and the basil, both chopped into small pieces.
4. Pour the mix on the pastry, and lay the pastry out on a baking tray. Add also the tomato slices, the cheese chips, and some olive oil and pepper (optional).
5. Cook everything in a pre-heated oven (180°C) for about 20 min until the pastry turns gold.
TIPS & TRICKS:
- This is a kind of French 'quiche' but lighter. It can be served hot or warm.
- You can use grilled courgettes or peppers in place of the tomatoes.
- Provolone or Scamorza cheeses are not easily found outside Italy. You can select a different savoury mature cheese, such as the Italian Pecorino or the Spanish Cerrano cheese according to your preferences.