Stuffed tomatoes in the oven with rice and potatoes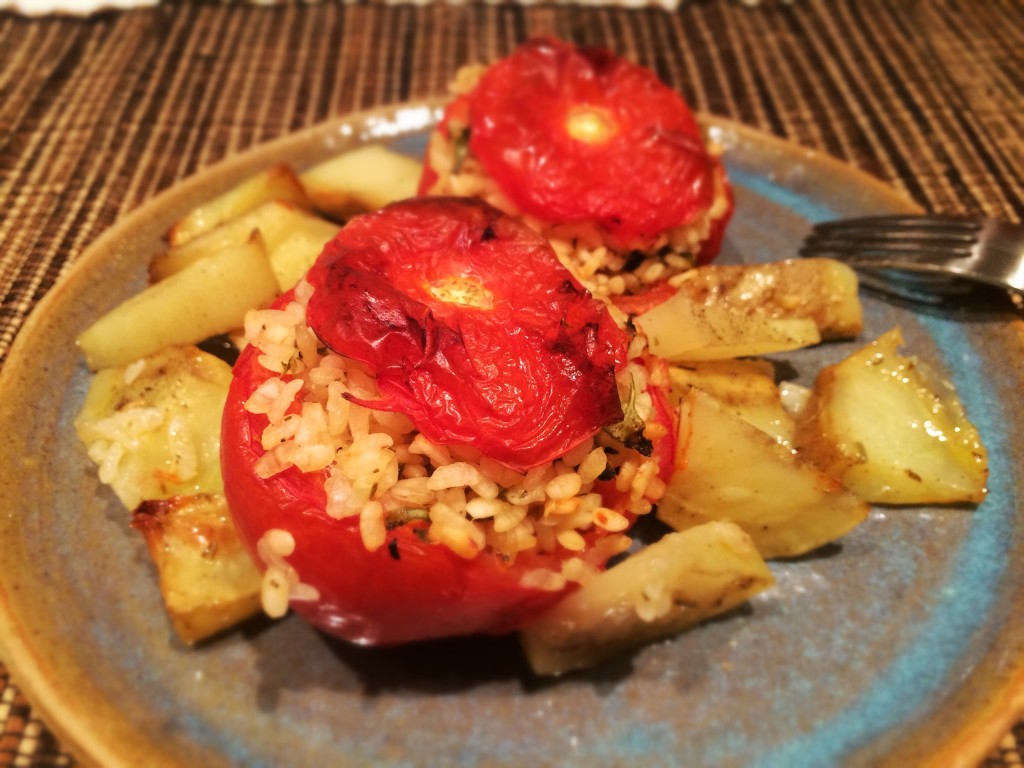 INGREDIENTS (x 6 persons)
- 6 big mature round tomatoes
- 200 g Italian 'Arborio' rice
- 2 finely chopped garlic cloves (optional)
- 4 tablespoons of grated Parmesan
- 4 tablespoons of grated Italian young Pecorino or Montasio cheese
- 1 large handful of fresh basil, finely chopped
- 2 tablespoons of oregano
- extra virgin olive oil
- salt, ground pepper
- 350 g yellow potatoes
- 1 handful of herbs for roast (to season potatoes)
WHAT TO DO:
1. Start by peeling the potatoes and placing them in a bowl with cold water.
2. Then cut off the upper part of the tomatoes and keep it aside. Take out the interior of the tomatoes mainly the hard bits and the seeds, and put it in a separate bowl. Season the internal part of the tomatoes with salt and place them upside down to remove the excess water.
3. In the meanwhile, in the bowl where you placed part of the tomatoes' pulp, add all the other ingredients except the potatoes and the roast herbs.  Season this mix generously with salt/pepper and oil, and stuff the tomatoes with it up to the top.
4. Cover each tomato with its own 'cap' and place all stuffed tomatoes on a baking tray. Put some oil at the bottom of the tray to avoid sticking.
5. In the same tray, add the potatoes roughly chopped and seasoned with the roast herbs as well as any leftover mix. Finish with a drizzle of olive oil and some salt.
6. Cover the tray with foil and bake in a pre-heated at 180°C for about 40-50 minutes. The foil will work as a lid and will keep the steam to let the tomatoes soften and the rice absorb their water. Depending on your type of oven, it could take longer so I would suggest you to keep on baking until the potatoes are done.
7. At the end, uncover the tray from the foil and finish by grilling au gratin for few minutes. This will make the surface slightly gold and crusty.
TIPS&TRICKS:
- This recipe for sure comes out better when the quality of ingredients is high, and I mainly mean the tomatoes and the basil. Try to avoid large salad tomatoes.
- We generally prepare this dish in the summer and eat it also warm as a complete dinner meal.
- The best trick to improve the final result is to be generous with the seasoning, herbs, cheeses and –of course- the potatoes on the bottom.
 - You can adapt the proportion of ingredients and substitute some of them according to your personal taste (e.g. adding extra cheese or adding capers and black olives). Anyhow, make sure you do not exceed with some of them in order to overtake the flavour of the other ingredients.