Stuffed tomatoes in the oven – mamma's way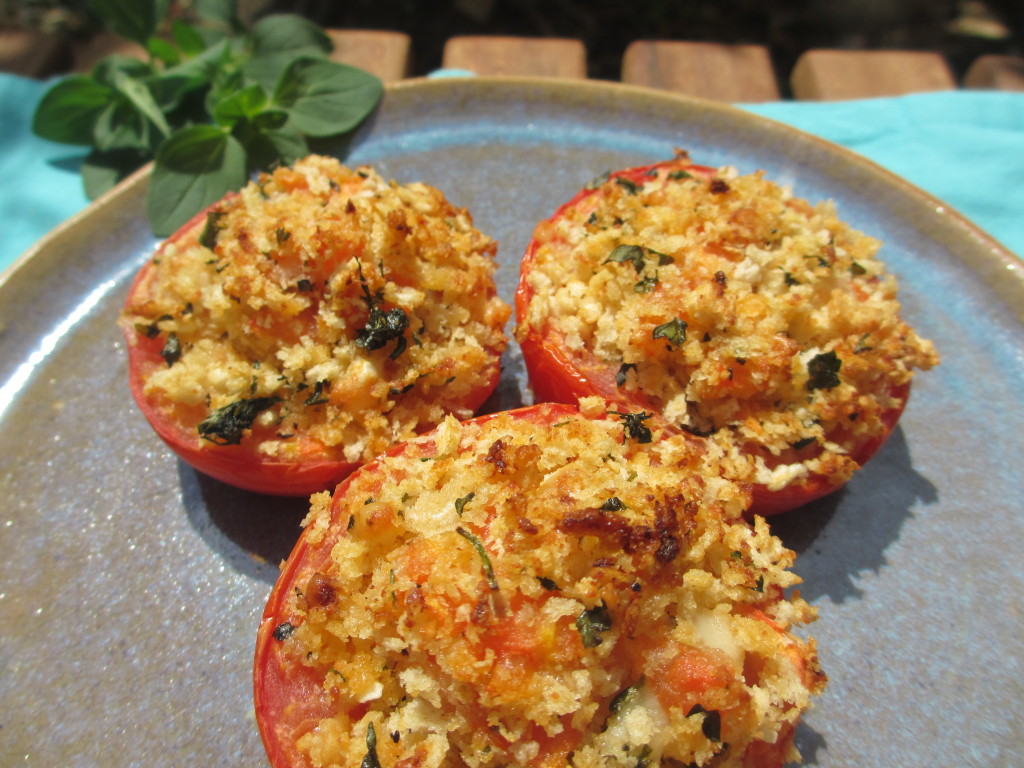 INGREDIENTS (x 4 persons)
- 4 'San Marzano'/plum tomatoes
- 100 g plain breadcrumbs
- 2 anchovy fillets in a can, finely cut (optional)
- 2 large handfuls of grated Parmesan
- 1 handful of fresh parsley, finely chopped
- extra virgin olive oil
- 1 garlic clove, thinly cut
- salt, ground pepper
- small capers or black chopped Greek olives, without the pit
WHAT TO DO:
1. Cut the tomatoes in two symmetric parts lengthwise, take out the inner bits including the seeds and set it aside. Rub the 'boats' with oil, sprinkle salt on them, and put them to drain empty upside down on the kitchen sink .
2. In the meanwhile, get a large bowl and put the tomatoes' inner bits in it with the breadcrumbs, anchovy fillets, salt/pepper, parsley, Parmesan, garlic, capers/black olives. This mix will become the stuffing.
3. Stuff the plum tomato 'boats' with the mix. Finish everything off with a drizzle of olive oil and ground pepper.
4. Grill au gratin into a pre-heated oven until crusty on the surface.
TIPS & TRICKS:
- If you do not find the plum ('San Marzano') tomatoes in your local shop, use the round tomatoes. Try to avoid the large tomatoes that you typically use for salads as they are not very savoury.
- You can adjust the proportion of ingredients and substitute some of ingredients with your favourite ones (e.g. adding extra cheese or avoiding capers and black olives). Make sure you do not exaggerate any ingredient as it easily overtakes the flavour of the other ingredients. Balance their quantities to balance the final taste!
- You can serve them warm or cold. This is a great summer dish.
- Substitute the parsley with fresh basil for a fresher flavour.