Stuffed artichokes – Mamma's way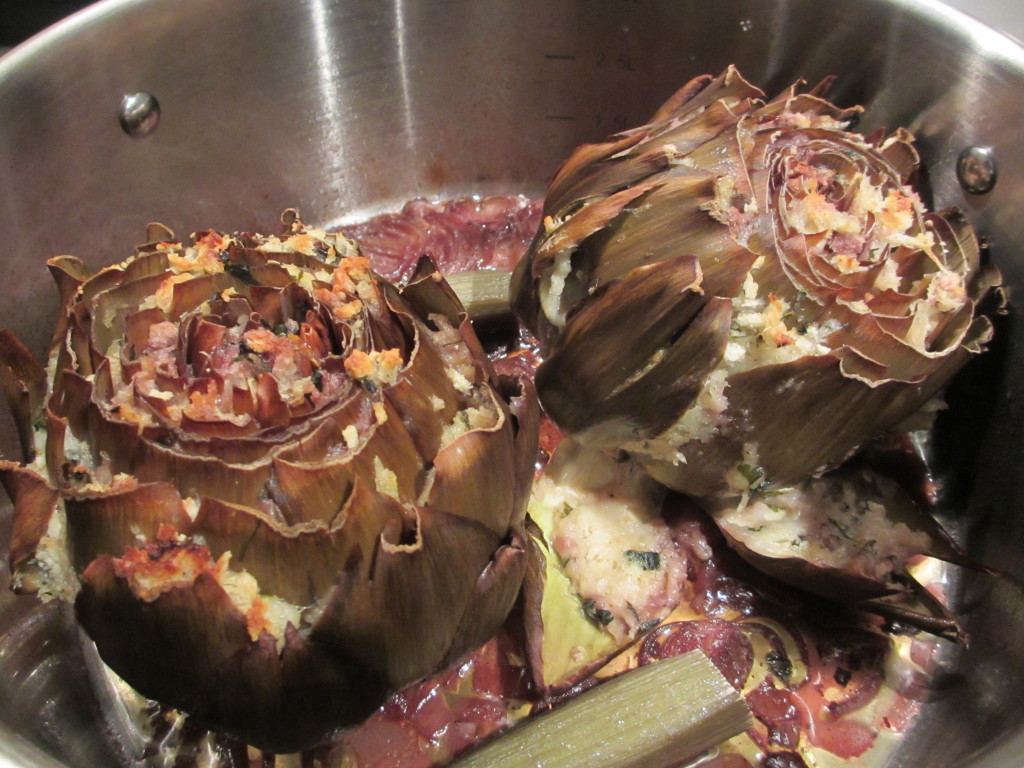 INGREDIENTS (x 4 persons):
- 4 large, fresh artichokes
- 200 g plain breadcrumbs
- 6 shallots, finely chopped
- 4 generous tablespoons of grated Italian Parmesan cheese
- 4 tablespoons of grated Italian Provolone or Pecorino
- 1 large handful of fresh flat parsley, thinly chopped
- 2 garlic cloves, pressed
- salt
- fresh ground black pepper
- 1 glass of dry wine
- extra virgin olive oil
WHAT TO DO:
1. Start with rinsing the artichokes really well. Trim off the outside leaves carefully and discard the harder ones together with a part of the stem. Also cut off the upper part of the artichoke and make it completely flat. Keep the tender part of the stem as well as the core of each artichoke with some of the outside leaves. Trim off the pointed tips of each leaf too.
2. With your hands bend the leaves outward to create some space for the mix. Place the artichokes upside down while preparing the mix.
3. For the mix/stuffing, combine the breadcrumbs with the grated cheeses, chopped parsley, the garlic, salt and pepper in a large bowl. Mix well. Add slowly a teaspoon of extra virgin olive oil until the mix is sticking together.
4. Stuff each leaf of the artichoke, starting from the centre of the vegetable and working your way around, with a bit of the mix. Be generous with the stuffing. The leftover stuffing will eventually be placed in the pan with the sauce.
5. Take a large baking pan and stew the chopped shallots in olive oil.
6. When done, place the artichokes with the wine and cook it with a lid for a few minutes.
7. Drizzle some olive oil over the top of the stuffed artichokes, adjust with some salt, and cover tightly with heavy tin-foil.
8. Move the baking pan from the stove into a 200°C pre-heated oven. Cook, covered with the foil, for approximately 60-80 minutes (depending on size of the artichokes). When soft enough, remove the foil and grill at medium strength for few minutes.
Cool down for 10 minutes before serving.
TIPS & TRICKS:
- This is by far (!) my mum's favourite dish. Usually it never comes out the way she prepares it…even though I use the same ingredients. Her dishes are definitively amazing and not comparable to anything else!!
- This artichoke dish comes out better if you are able to find the Italian artichokes called "mamme romane" which are really tasty. They come from anywhere between Rome and the south of Italy. It can taste great with other big artichokes as well. It is important, though, that you avoid those with beards inside as they can be very bitter in taste.