Spaghetti in a cream of aubergine and pecorino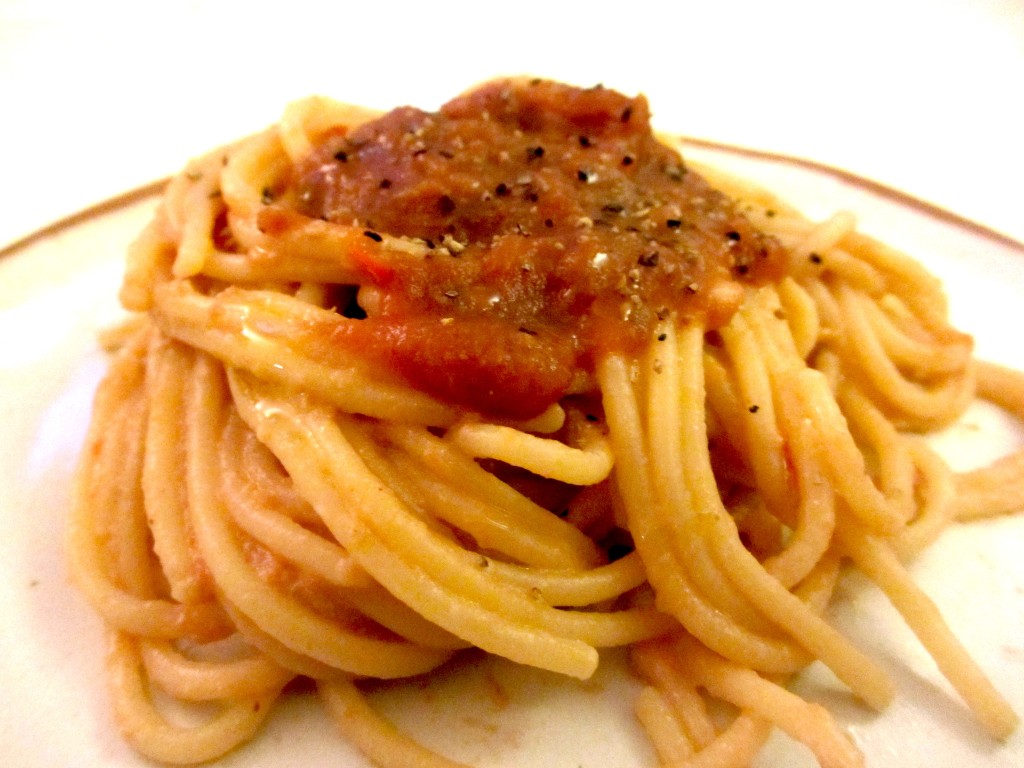 INGREDIENTS (x 4 persons):
- 2 medium size black aubergines
- 425 ml tomato sauce
- 2 garlic cloves
- extra virgin olive oil
- salt/pepper
- 1 large handful of grated mature Pecorino romano cheese or 3 teaspoons of creamy Cacio or Pecorino cream
- 1 handful of Greek black olives, w/o pits, thinly chopped
- 350 g of spaghetti pasta
- sea salt
WHAT TO DO:
1. Start by chopping the aubergines into dices and place them in a separate bowl.
2. Separately, in a frying pan, sweat the garlic cloves in 2-3 tablespoons of olive oil.
3. Then add the aubergines dices and the tomato sauce. Adjust with some salt and cook at medium heat for about ½ hour, covering the pan with a lid.
4. When the aubergines have become softer, take a mixer and smash the sauce into a uniform cream.
5. In the meanwhile, put a deep pan of water on a fire, cover with a lid and let it get up to boil. When boiling, bring down to a gentle boil and add a handful of sea salt. Let the water get back to boiling before adding the spaghetti.
6. Put the pasta into the boiling water and let it cook until 'al dente'. When ready, drain it and mix it into the frying pan with the creamy sauce.
7. Add the pecorino cheese in spoons, or grated, and serve it with a drizzle of olive oil.