Smoked Salmon balls with Philadelphia cream cheese and walnuts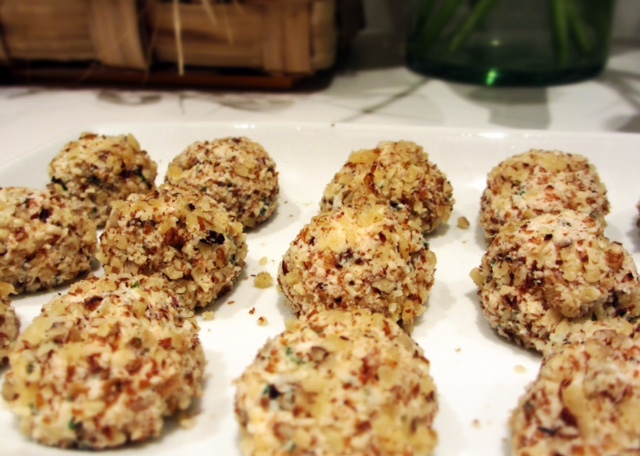 INGREDIENTS (x 6 persons):
- 200g smoked salmon (in brine or pre-cooked fillets)
- 100g Philadelphia cream cheese
-  1 handful of fresh flat parsley, thinly chopped
-  1 large handful of grinded walnuts
-  2 tablespoons of white onion, finely chopped
-  2 tablespoons of lemon juice
-  1 pinch of paprika powder
WHAT TO DO:
Put all ingredients in small separate bowls. Then in a large bowl, mix the salmon with the cream cheese, the parsley, the onion, the paprika and the lemon juice. Then with a spoon take a small quantity of the mix and try and create a small ball with wet hands (to avoid sticking). Roll the balls into the grinded walnuts. Place the balls in the fridge for at least 1 hour before serving.
TIPS & TRICKS:
- I suggest making this a quick and easy starter a few hours before your meal. This will give you enough time to get ready for the other dishes and it will also allow the balls to take the right texture.
- The dish tastes better when the balls are small in size, say, about 2 cm, and when they are accompanied with a glass of dry white wine.