Smoked ricotta "Pappardelle " with vegetables mix and S.Daniele ham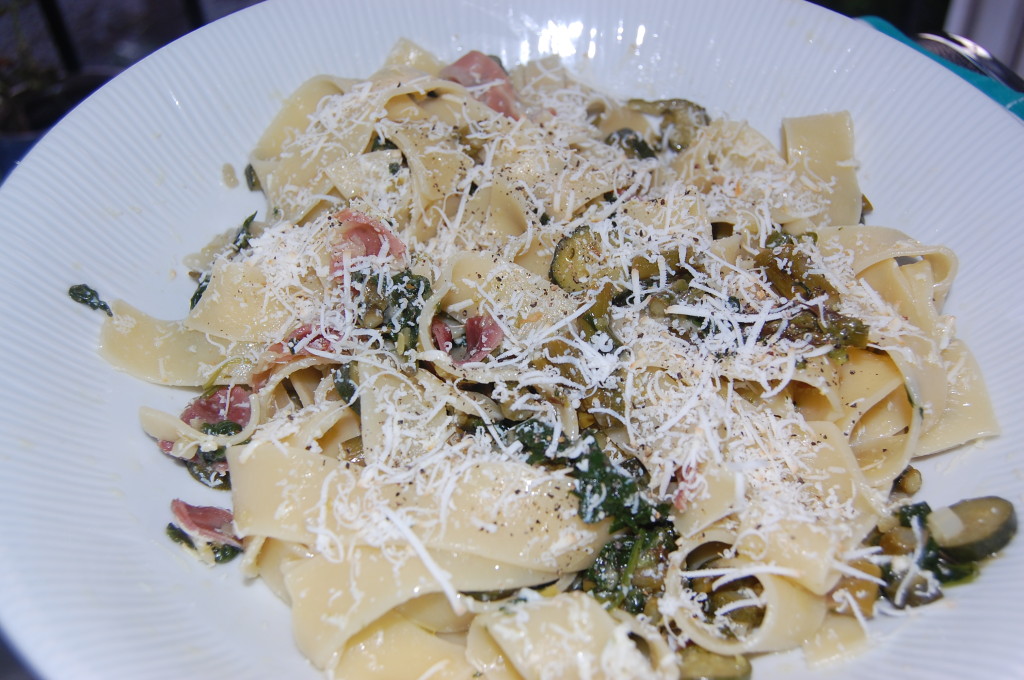 INGREDIENTS (x 4 persons):
- 350 g of Pappardelle pasta
- 3 spring onions, finely chopped
- 1 glass of Sauvignon Blanc (or similar white wine)
- 100 g asparagus tips
- 100 g small courgettes
- 80 g baby leaf spinach
- 4 slices of Italian S. Daniele Prosciutto
- 1 garlic clove
- extra virgin olive oil
- salt/black pepper
- a large handful of grated, smoked, hard Ricotta cheese
WHAT TO DO:
1. Firstly, wash all the vegetables and chop them into smaller pieces.
2. Take a deep saucepan and stew the spring onions in olive oil. Add the asparagus bites with a pinch of salt and also add the glass of wine. Cook for about 10-15 minutes. Then add the courgettes and stew until tender covering the pan with a lid. The last minutes before completing the cooking, add the spinach leaves.
3. In a separate and smaller saucepan, stew the garlic until slightly golden in olive oil. Then take out the pan from the heat and fry until crispy the S. Daniele prosciutto you had previously sliced in small stripes.
4. In the meanwhile bring the water for the pasta to boil in a deep cooking pan, add a handful of sea salt and boil the Pappardelle for about 10min (until 'al dente').
5. When the pasta is ready, mix it with the vegetable sauce, the grated smoked Ricotta cheese and a fresh grind of black pepper. Enjoy It!
TIPS & TRICKS:
- I got the inspiration for this recipe from reading something similar in the  popular Italian cooking book 'la Cucina Italiana'. As I could not find the original ingredients proposed by it here in London, I explored my creativity to make some different, yet tasty.
- Same of these ingredients could be difficult to find in your local supermarket. Anyway, it is essential for me to find a savoury 'Prosciutto' (S. Daniele or Parma) and a smoked cheese to grate on top.