Sea bass fillets with courgettes' purée and ginger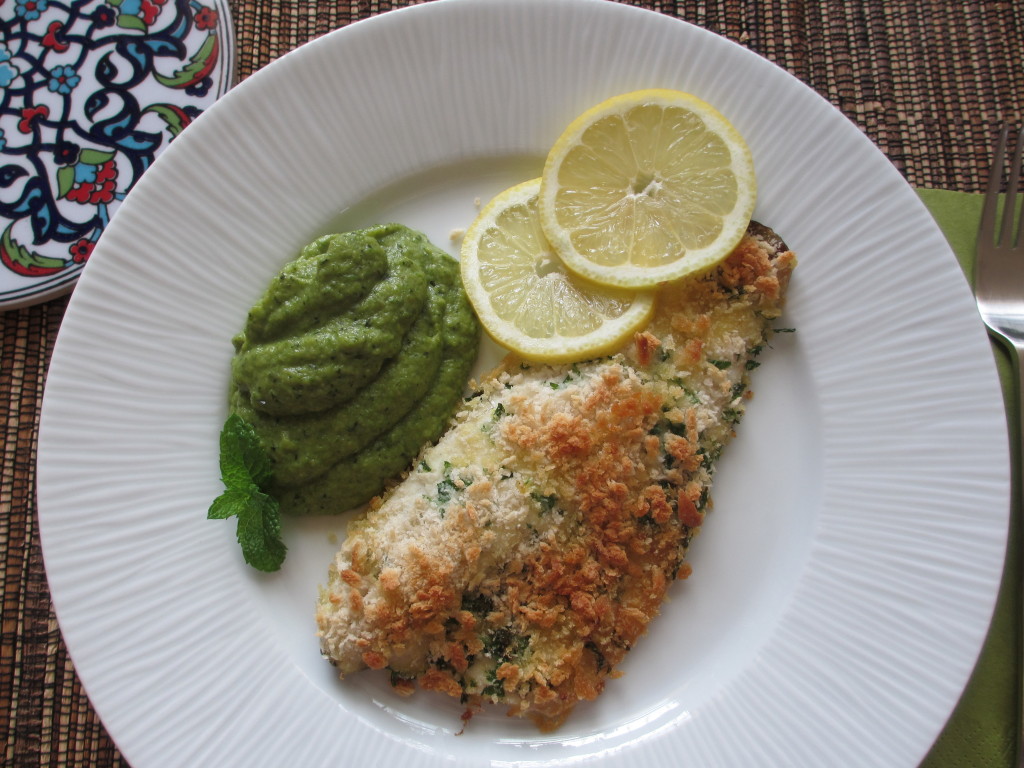 INGREDIENTS (x 2 persons):
- 2 sea bass fillets, medium size
- 1 big handful of plain breadcrumbs
- 1 handful of parsley, finely chopped
- ginger
- 1 handful of mint leaves
- 200 g sweet tender baby courgettes
- 1 big shallot
- extra-virgin olive oil
- salt
- black pepper (optional)
WHAT TO DO:
1. For the courgettes' purée, slice the shallot and stew it in a non-sticky frying pan with a few tablespoons of olive oil.
2. Add the courgettes, roughly chopped, as well as the mint leaves and a pinch of salt. Cook everything at medium/high heat until soft enough to be smashed into a mash tun with a food processor.
3. For the fish fillet, mix the breadcrumbs with the parsley and put it on a tray. Use the mix to bread up the fillets on both sides. Place the fillets on a baking tray with a slug of olive oil, a pinch of salt and pepper, and some freshly grated ginger.
4. Switch on the oven to about 180°C. When the oven reaches the temperature, broil the fillets for about 10-15 min (alter the cooking time to the strength of your oven to make sure you do not over cook the fillets). When slightly crisp and golden, take them out from the oven. Serve them warm together with the courgettes purée and a sprinkle of olive oil.
TIPS&TRICKS:
- The sea bass has a white, lean flesh with a subtle, mild to moderate fish flavour. If sea bass is not available, a number of highly-nutritious fish with similar flavour and texture can be substituted in its place, such as halibut or striped bass.
- Make sure you do not exaggerate with the ginger – it should not dominate the delicate taste of the fish.
- Try not to overcook the fillets as they could become too dry.