Savoury "Fusilli " with mussels and cherry tomatoes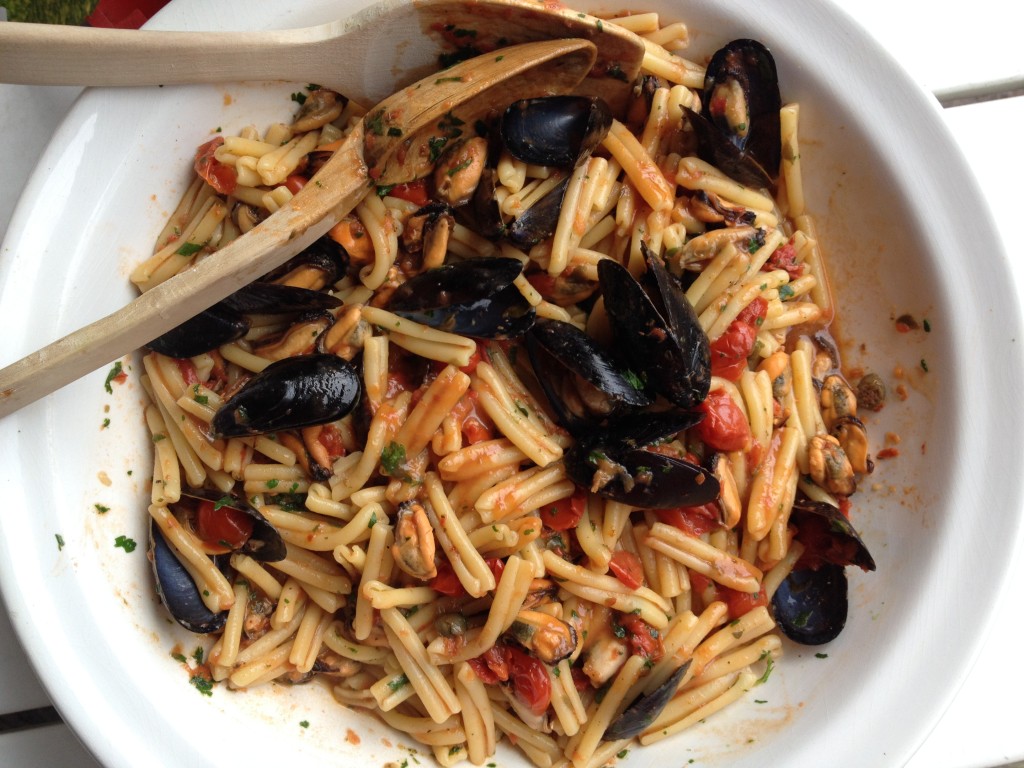 INGREDIENTS (x 6 persons):
-  500 g of Fusilli pasta
- 1,5 Kg mussels
- 300 g cherry tomatoes
- 400 g tomato sauce (a can)
- 3 anchovies, in oil
- 1 handful of small capers, in sea salt
- 1 handful of oregano
- 4 garlic cloves
- extra virgin olive oil
- sea salt/fine salt
- 1 pinch of saffron powder
- 1 pinch of chilli pepper
- 1 handful of fresh parsley, thinly chopped
WHAT TO DO:
1. Cut the tomatoes in large pieces and set them aside. Rinse the capers with running water, drain them, and then cut them in smaller pieces.
2. In a wide saucepan gently pour some olive oil and quickly brown the garlic cloves. Shortly reduce the heat and then add the anchovies, the capers and the oregano. Add the tomatoes and increase the heat back. Only when the tomatoes are slightly soft, add the tomato sauce. Adjust with salt and chilly powder. Add the mussels and let everything cook at medium heat for about 20 minutes. Put a lid on the pan.
3. In the meanwhile bring the water for the pasta to boil, add a handful of sea salt and the saffron powder. Put the fusilli to boil for about 10 min (until 'al dente'). Please remember to check the cooking time of the pasta on its packaging as it can differ between brands.
4. When pasta is ready, drain it and mix it with the mussel sauce. Serve immediately with a sprinkle of black pepper and some parsley.
TIPS & TRICKS:
- This is a true 'southern' recipe with mussels and, believe me, it is absolutely delicious!
- You can adjust the density of the sauce by cooking it longer (if you want it creamier).
- Remember to keep apart some mussels with their own shell to decorate the dish before serving.