Roasted lamb with potatoes in the oven-Mamma's way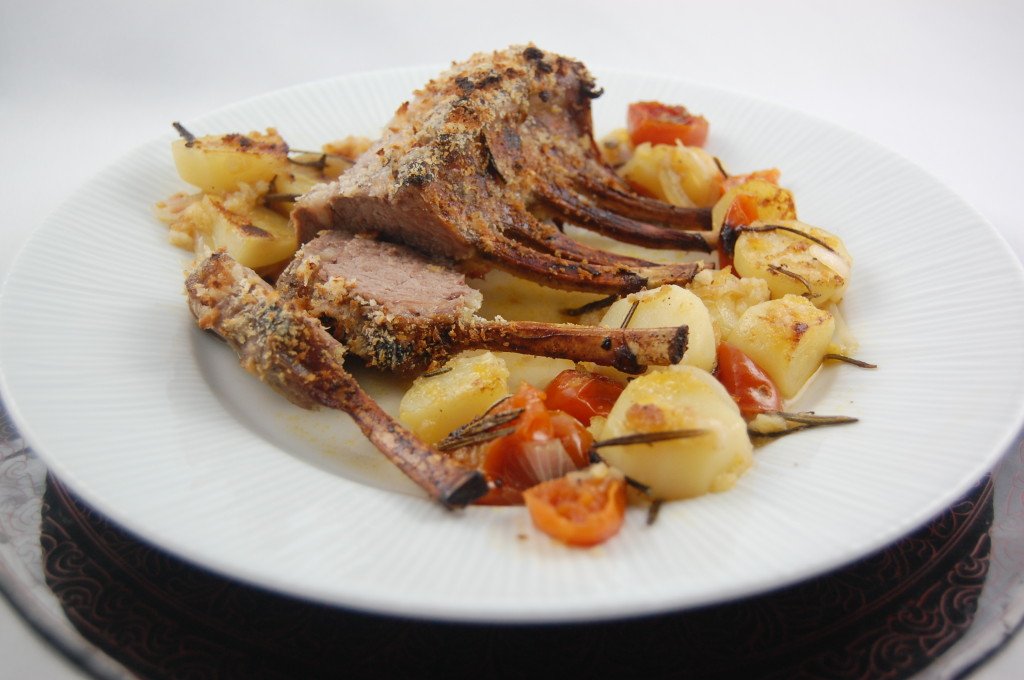 INGREDIENTS (x 2 persons)
- 350g extra trimmed rack of lamb
- ½ lemon juice
- 2 shallots (or a small onion), thinly sliced
- 4 big potatoes
- 2-3 garlic cloves, thinly sliced
- 5-6 cherry tomatoes
- rosemary
- 1 glass dry white wine (Sauvignon Blanc)
- extra virgin olive oil
- salt/ground black pepper
- a handful of breadcrumbs
WHAT TO DO:
1. Peel the potatoes, wash them in cold water and cut them roughly in large cubes.
2. Mix together the lemon juice, olive oil, 1-2 garlic cloves and rosemary. Place the lamb rack on a large roasting pan and pour the juicy mix over the lamb. Make sure you go with a pan that you can use both on the stove as well as in the oven.
3. Leave it to marinate, covered with a plastic wrap, in the fridge for 1-2 hours if you have time.
4. After this, pre-heat the oven at 200°C.
5. Take out the meat from the fridge and add fresh olive oil, together with the chopped potatoes. Put it on the stove for roasting on a medium heat, add the tomatoes cut in two and the sliced shallots (or onion). Season generously with salt/pepper, rosemary, and slices of garlic. When roasted on both sides, add some hot boiling water just right to cover the meat. Sprinkle the entire dish with olive oil first, and then with a glass of wine.
6. Cook the dish in the oven at 200° degrees for about 30-40 minutes (according to the size of the meat).
7. A few minutes before serving, add some breadcrumbs on the meat and grill it quickly, also in the oven. Serve it warm.
TIPS & TRICKS:
- This is an easy recipe taken from the 'Leccese' (from the town of Lecce) tradition in the south of Italy. It is common to have it at Easter time and it is called, in dialect, "Aunu cullè petàte allu fùrnu".
- Be generous with the herbs and dressing. The flavours get into the meat and flavour the potatoes as well!
- Adjust the cooking time to the size of your meat as it could require extra time to have it properly cooked.
- Some people prefer it nicely brown on the outside with the meat still a little pink on the inside. In this case, take your time to roast it well before adding the water and the wine. Baking in the oven will last 15-20 minutes at maximum.