Ricotta and cheese Dumplings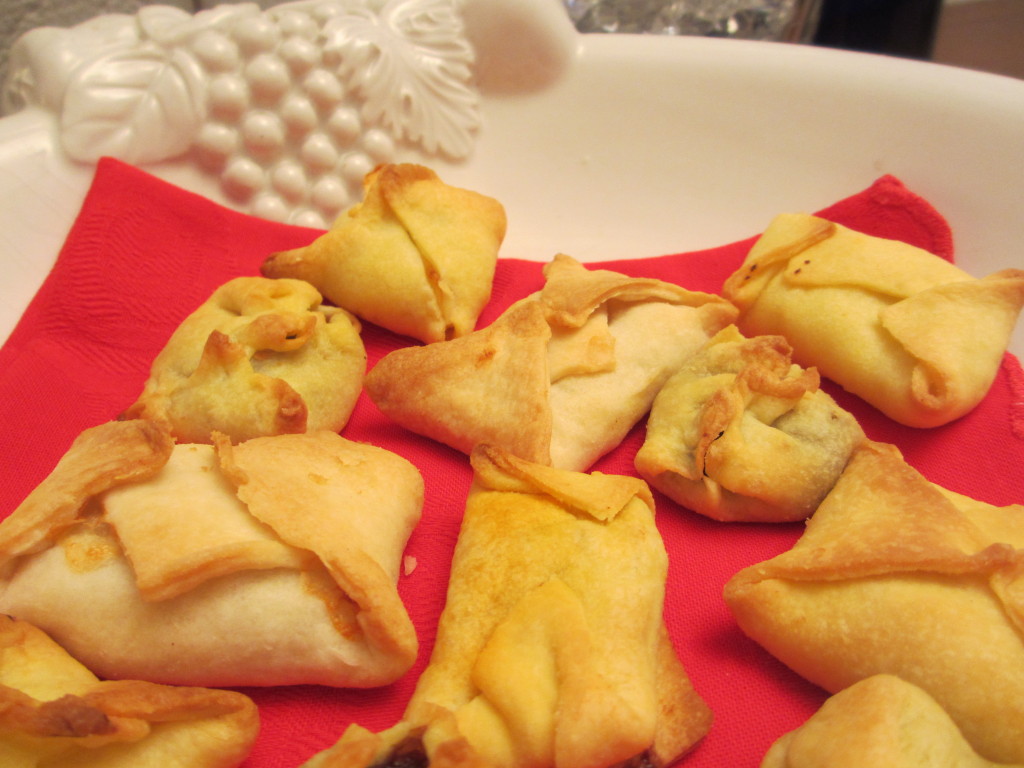 INGREDIENTS (x 8 persons):
-  2 rolls of short-crust pastry (briseé)
-  1 big red onion, thinly chopped
-  a glass of Marsala or Port wine
-  a handful of thyme leaves
-  40 g dry cured ham slices
-  80 g fresh Italian Montasio or Asiago cheese, roughly grated
-  4 nuts, crumbled
-  200 g ricotta cheese
-  40 g Italian Gorgonzola cheese (or a mild English Blue cheese)
-  20 g Maroccan or Greek Black olives, finely chopped
-  a handful of dried tomatoes
-  oregano
-  2 large handfuls of grated Parmesan
- 1 egg + 1 egg for the surface
- extra virgin olive oil
- ground pepper (optional)
4 FILLING COMBINATIONS:
1) caramelized onion in Marsala wine, ricotta and thyme
2) ham and cheese (for the little ones)
3) Gorgonzola and ricotta cheese with nuts
4) Dried tomatoes, black olives, oregano and ricotta cheese
WHAT TO DO:
1. Switch on the oven and put it on 180°C. Remember to take the crust pastry rolls out from the fridge about half hour before you need them. Just warm them up at room temperature.
2. Start by chopping onions, ham, cheeses, olives and tomatoes in small pieces. Take 4 different bowls so that you can prepare four different kinds of fillings for the dumplings. The only filling which requires some cooking is Filling N°1.
3. In a saucepan, pour some olive oil and cook the onion with a generous amount of thyme. Cover the pan with a lid to make an even better stew. Before you stop the cooking, add the Marsala wine and let it boil until creamier and softer in consistency.
4. Get ready with the other fillings.
5. Lay the two rolls of pastry on a kitchen countertop. Make sure they are covered with some flour (to avoid sticking). With a wooden roll, make the pastry thinner and after that cut it in small squares or triangles according to your ideal shape of the dumpling.
6. Evenly place each mix on a piece of pastry and fold it up like a little bag . Close the dumpling with wet finger tips, or, alternatively, use a brush to spread some whisked egg on it. (This will also make the dumpling get a golden colour on top).
7. Cook the dumplings in the hot oven until they are gold in colour. You can serve them both warm and/or cold.
TIPS & TRICKS :
- Get to a nice alternative by using a puffy pastry instead of shortcrust pastry. The result will come out slightly different as the puffy pastry is softer and more buttery but as tasty as the original version.
- It can be used as a nice starter or as a snack during a party.
- You can prepare the dumplings a few days in advance and then freeze them. The moment you want to cook them however, take them out from the fridge earlier and let them defreeze at room temperature. Remember they take slightly longer to bake them.