Ricotta and 'Amaretti' tarte in a strawberry sauce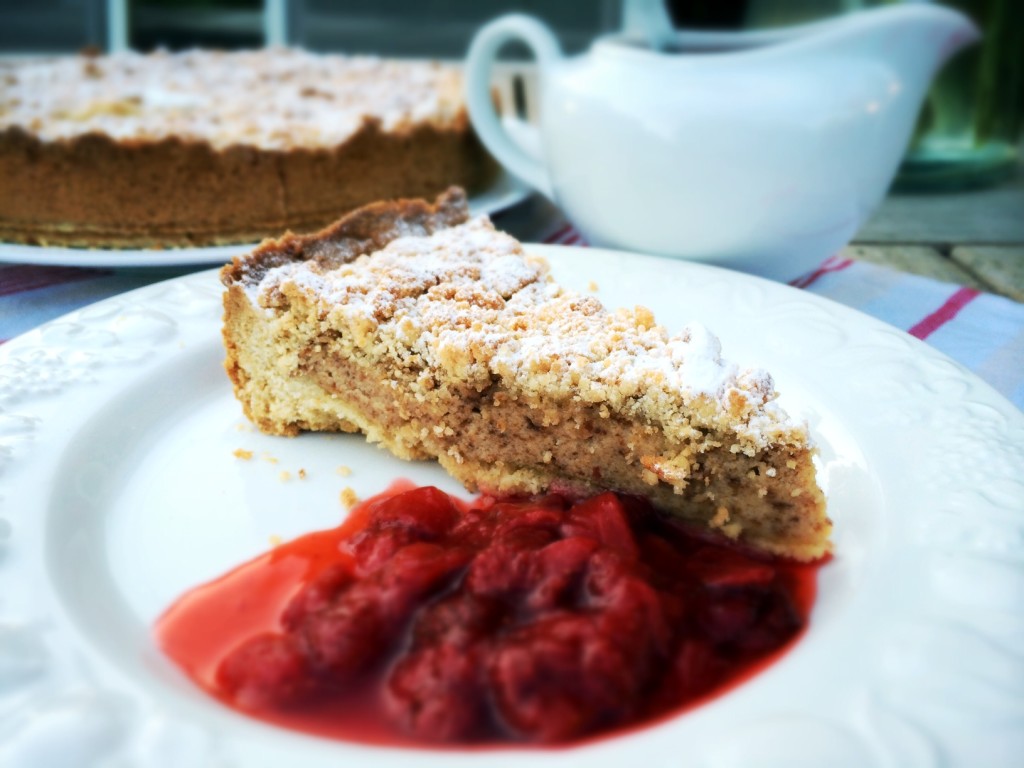 INGREDIENTS (x 8 persons)
For the dough base
- 300 g non-raising plain flour ('00')
- 100 g unsalted butter
- 100 g caster sugar
- 1 egg
- 1 pinch of salt
- 1 bag of Vanilla powder
- 1 bag of baking powder
For the stuffing
- 300 g ricotta cheese
- 1 egg
- 50 g caster sugar
- 200 g 'Amaretti' biscuits, crumbled
For the strawberry sauce
- 1 kg of strawberries
- rum (optional)
- ½ lemon juice
- 50 g caster sugar
WHAT TO DO:
For the dough base: Take out the butter from the fridge, dice it into smaller pieces and let it get room temperature. In a large bowl mix the egg with the sugar to have a soft foamy mix. Add a pinch of salt and the diced butter. Mix until smooth. Now you are ready to pour the flour in. You get a good result if you put it through a strainer because it avoids clumps. At the end add the baking powder. You will get to a texture, which will not be homogenous but crumbly and dry. Set it aside.
In the meanwhile pre-heat the oven at 180° C and prepare the stuffing.
For the stuffing: In a bowl, whisk the egg with the sugar. Now first add the ricotta cheese and then the Amaretti crumbles.
Choose a round baking pan (about 22 cm diameter), evenly spread some butter on the bottom and the borders, and sprinkle on top some flour to avoid sticking.  Discard the excess flour. Cover the base of the baking pan and the borders with half of the dough. It will be slightly difficult in the beginning, as you need to do it little by little. When you are done with the edges of the tarte, evenly spread the stuffing. Cover the surface with the rest of the dough and cook in the oven for about 40 min at 180°C.
For the strawberry sauce: Wash the fruits and roughly cut them in smaller pieces. In a non-sticking pan, cook the strawberries with the lemon, the sugar and the rum on a medium heat. Cook until soft and creamy.
Serve a slice of cake with some scoops of warm strawberry sauce.
TIPS & TRICKS:
- You can increase the Amaretti flavour by adding extra crashed almonds to the stuffing. In either case, make sure not to have the mix too dry.
- To cover the baking pan and get a crunchier crust, use some fine plain breadcrumbs instead of the flour.
- The strawberries can be substituted by any other type of fruit at your choice. I personally love this cake with summer fruits such as strawberries, raspberries or better peaches.