Pasta in the oven with aubergines– mamma's way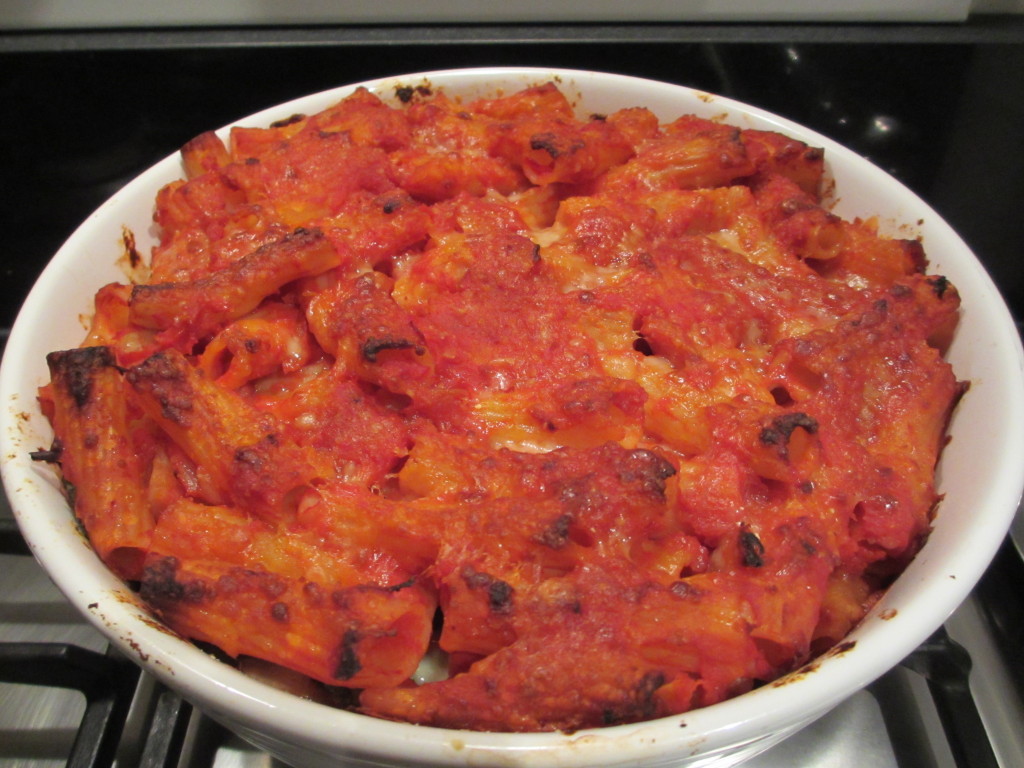 INGREDIENTS (x12 persons):
SAUCE:
- 2 bottles traditional plain Italian tomato 'salsa'
- 1 can with peeled tomatoes
- 1 spoon of Italian double-concentrated tomato puree
- 2 garlic cloves
- 1 big white onion, sliced
- 1 bunch of fresh basil
- extra virgin olive oil
- salt/ground pepper or chilli pepper (optional)
- 1 pinch of caster sugar
FILLING:
- 2-3 big purple aubergines
- sunflower oil, for frying
- 120 g of grated Italian Parmesan
- 1 big bunch of fresh basil
- 400 g mozzarella cheeses
- unsalted butter
- 1 kg rigatoni or tortiglioni pasta
WHAT TO DO:
1. In a large deep saucepan throw some olive oil and sweat the garlic cloves quickly together with the sliced onion. Add the tomato salsa and peeled tomatoes, the tomato puree, salt, few basil leaves (roughly cut) and a pinch of sugar. Let the sauce cook slowly at low-medium heat until creamy.
2. Slice the unpeeled aubergines (about 1 cm slices) and fry them in hot sunflower oil. Drain them when ready on a kitchen towel to absorb the oil. Keep them in a separate bowl while you prepare the other ingredients.
3. Put a deep pan with water on a fire, cover with a lid and let it get up to boil. When boiling, bring down to a gentle boil and add a handful of sea salt. Let the water get back to boiling point before adding the pasta. When 'al dente' (or better slightly less), drain it and mix it with a generous amount of salsa and Parmesan cheese.
4. In a deep baking tray (squared) lay, in a sequence:
- some butter, tomato sauce, Parmesan
- a layer of pasta
- few basil leaves
- a layer of fried aubergines, salt, a drizzle of Parmesan, tomato sauce
- mozzarella in slices
- a layer of pasta
- extra tomato sauce, Parmesan, basil, butter flakes
4. Put the tray inside a pre-heated hot and not ventilated oven (180°) and let it cook for about 30-40 minutes covered with aluminium foil.
5. Then take the foil out and grill it for about 5 minutes (depending on your grill options) until slightly crusty on the surface.
TIPS & TRICKS:
- Make the sauce in advance to save some time!
- Be generous with the ingredients as it will give an even better result!
- Try to get the pasta really 'al dente' as it has to go inside the oven for extra cooking.
- Few minutes of grill could help getting a crustier top layer.
- Enjoy, it's my personal most favourite mamma's dish!