'Pappa al pomodoro'/Bread and tomato soup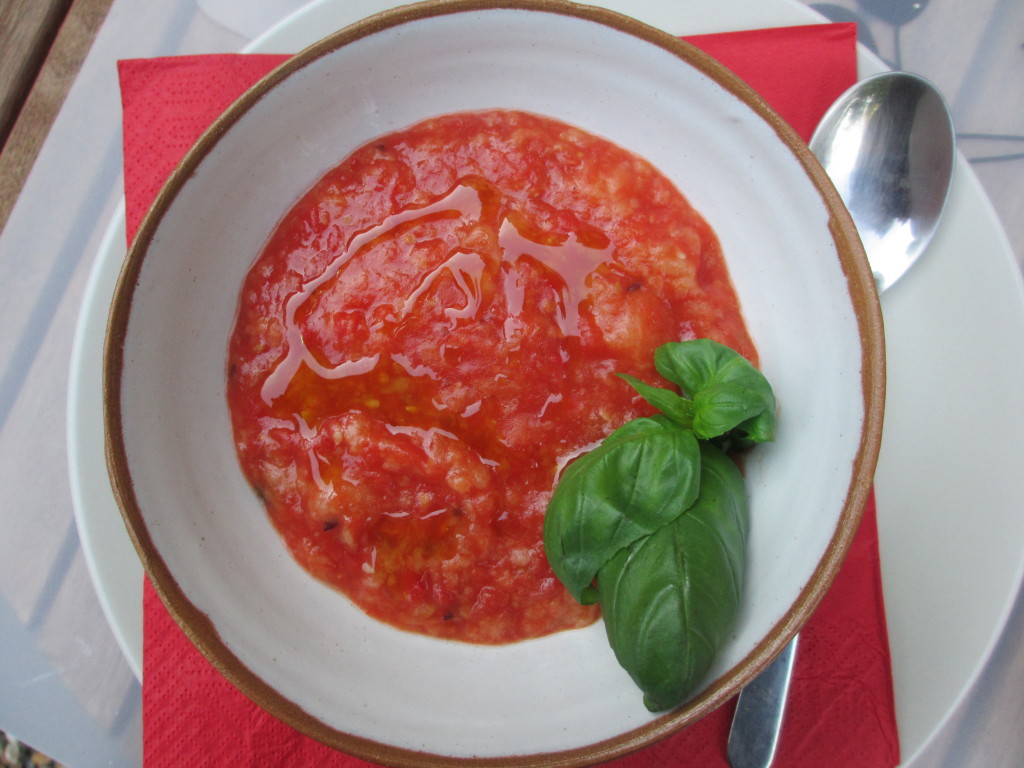 INGREDIENTS (x 6 persons)
- 800 g round savoury, fresh tomatoes (or 2 cans tomato 'salsa')
- 3 garlic cloves, peeled
- 3 toothpicks
- extra virgin olive oil
- salt/ground pepper
- 1 large bunch of fresh basil leaves
- 6 slices of Tuscany bread (unsalted) or sourdough
- 6 tablespoons of natural yogurt (optional)
- 6 tablespoons of grated Parmesan (optional)
WHAT TO DO:
1. In case you got fresh, savoury tomatoes, put a deep pan filled with water on a fire, covered with a lid, and let it get up to boil.
2. When boiling, toss the tomatoes into the water for few minutes (until the skin starts cracking).
3. Take the tomatoes out quickly, peel them, and remove the seeds. Roughly chop them in small pieces. If you decide to use the can tomatoes, you should skip these steps of the procedure.
4. Soften the slices of bread for few minutes in a bowl with some water. This is about the time required to be able to tear them into small pieces with your hands.
5. Heat few tablespoons of olive oil in a large pot and add garlic cloves, each one stuck into a toothpick (this allows you to take it out at the end of the cooking).
6. Add your tinned or fresh chopped tomatoes, then break the tomatoes up with a spoon (if you have the fresh ones).
7. Fill a pot with water, tear the basil leaves, and add some salt. Bring to the boil, cover with a lid and simmer for about 15- 20 minutes at low heat.
8. When you achieve a thick, creamy, porridge-style texture, remove the pot from the heat.
9. Divide the soup between the bowls and serve them with a little extra basil on top as well as a spoon of olive oil.  Serve it warm with a sprinkle of pepper and grated parmesan (optional).
10. If you like a more 'delicate' flavour, add to each bowl a tablespoon of plain natural yogurt.
TIPS & TRICKS:
- If you cannot find the Tuscany bread, you can take any other kind of sourdough. It is important not to have other flavours, such as pumpkin, dried tomatoes or black olives, which could alter the final flavour of the soup. If it is salty bread, reduce the salt you have add while cooking.
- When buying the tomato salsa, select one of the Italian traditional brands. The final flavour can be totally ruined by a bad tomato!
- This dish can be served cold in the summer as a tasty first dish. It comes out great when you prepare it with fresh, savoury tomatoes instead of the ones in cans.