Panfried potatoes/Patate "in tecia"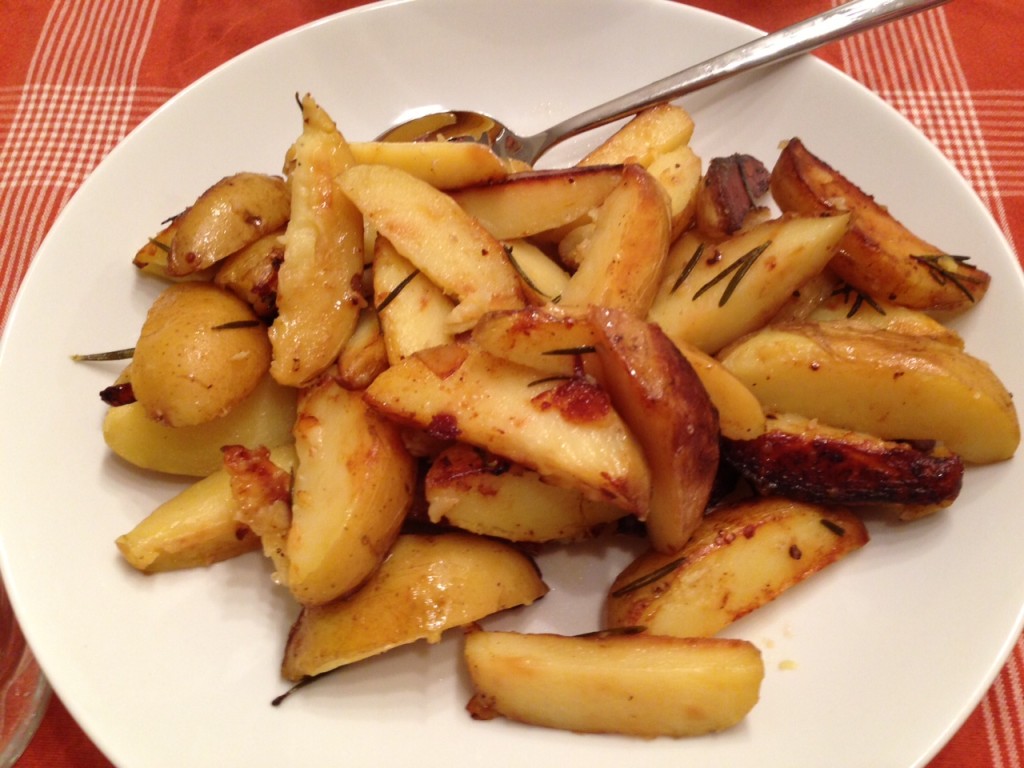 INGREDIENTS (x 6 persons):
- 8 big white potatoes
- a bunch of fresh rosemary
- extra-virgin olive oil
- salt/black pepper
- roast herbs seasoning (optional)
- 2 garlic cloves, with the skin
WHAT TO DO:
1. Before starting, wash the potatoes and cut them into big chunks. Keep them into a bowl filled with water until the moment you cook them.
2. In the meanwhile, press the garlic cloves (including their skins) by using a knife and stew them up quickly into a non-sticky frying pan.
3. Take the potatoes out of the water, transfer them into the pan and season them according to your taste with rosemary, salt, and –if available- the roast herbs (optional). Cook them at high heat until nicely roasted, turning them from time to time to let them roast on different sides.
4. When they are well cooked, cover the pan with a lid and let them stay there to soften for at least 10-15 minutes. Serve them warm.
TIPS & TRICKS:
- This recipe is a quick version of the 'Roasted Potatoes', traditionally prepared in the oven.
- Do not be scared to undercook your potatoes when you notice they get well done on all sides. Covering them with a lid and letting them stay still will give them the required time to soften up.
- Try not to exceed with the roast herb seasoning as they could be already salted and then alter the taste of the dish. If available in your area, there is a nice, ready-to-use Italian mix called 'Ariosto' which works really well. Nonetheless, the dish comes out well without any herbs anyway.