"Linguine " with Prawns tails and walnuts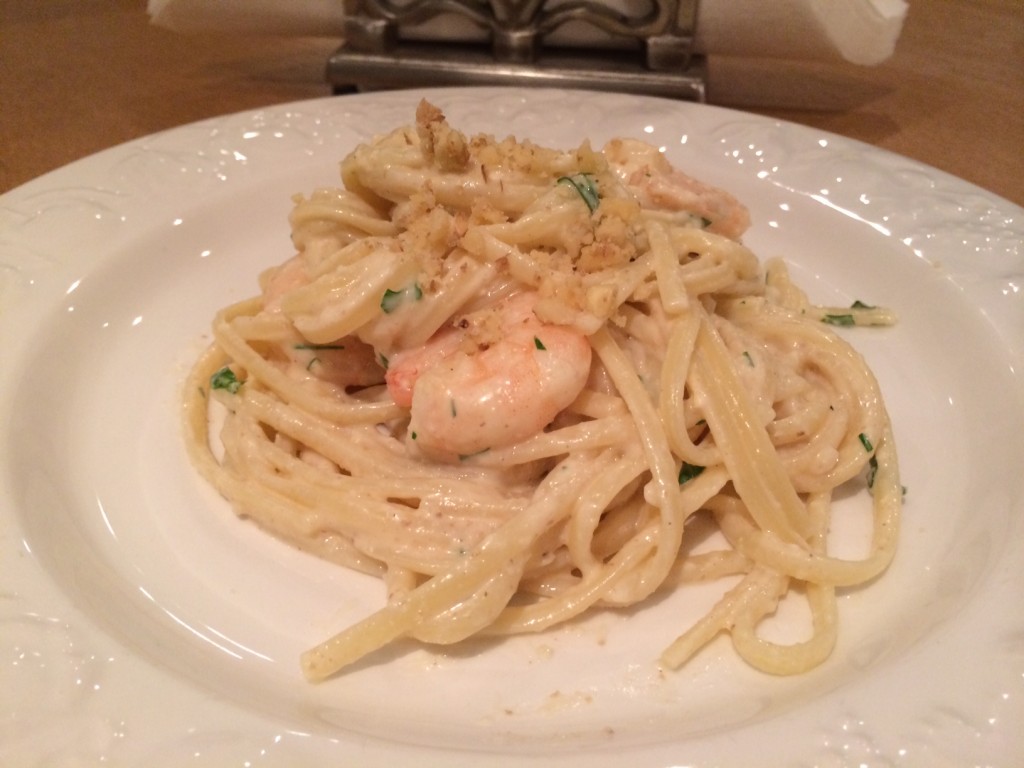 INGREDIENTS (x 6 persons):
- 500 g of Linguine pasta
- 18 prawn tails
- 150 g walnut kernels
- 120 g fresh single cream
- a glass of whole milk
- 4 slices of white sandwich bread
- 1 handful of fresh parsley, roughly chopped
- 1 small garlic clove
- extra virgin olive oil
- sea salt/fine salt/
- white pepper
WHAT TO DO:
1. Shred the slices of bread into small pieces and soak them for few minutes in a cup filled with milk.
2. Grind the walnut kernels, the bread (drained from the milk), the single cream, the garlic clove and a pinch of salt for few minutes in a mixer at moderate speed. You will get a homogeneous creamy sauce for your pasta.
3. In a separate, wide saucepan gently pour some olive oil and quickly pan-fry the prawn tails at high heat.  Adjust with salt and pepper.
4. In the meanwhile bring the water for the pasta to boil, add a handful of sea salt and boil the pasta for about 10 min (until 'al dente'). Please remember to check out the cooking time of the pasta as it can differ among brands.
5. Pour the walnut sauce in a bowl and string it out together with a spoon of the pasta's cooking water.
6. When the Linguine are ready, mix it with the cream. Serve immediately with some white pepper and some parsley. Decorate with few prawn tails and taste it!
TIPS & TRICKS:
- The prawns really take few minutes to get ready. I would suggest to prepare them while boiling the pasta.
- To give an extra flavour to the prawns, drizzle them with a sprinkle of Cognac while cooking.
- You can fix the creaminess of the sauce by using the cooking water of the Linguine.