Light breaded crispy chicken and thyme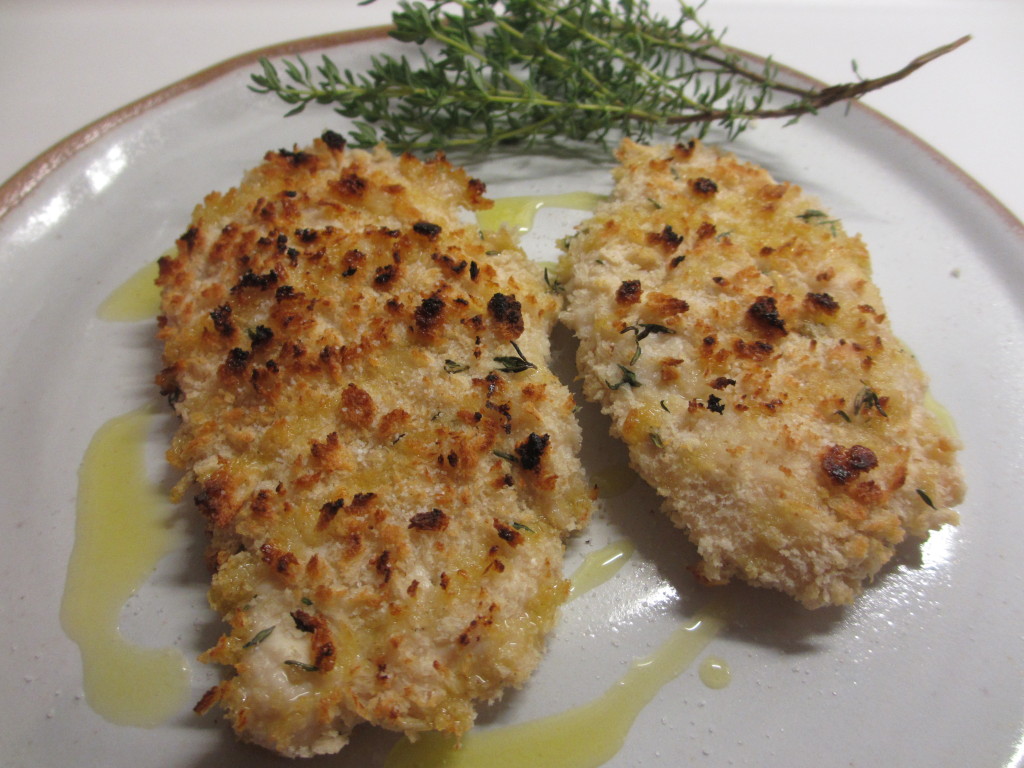 INGREDIENTS:(x 2 persons)
- 2 free-range chicken breasts
- 100 g plain breadcrumbs
- 1 handful of oregano or thyme
- salt
- extra-virgin olive oil
WHAT TO DO:
1. Slice the chicken breasts into small fillets or slices.
2. Place the breadcrumbs with the oregano on a plate or in a box. Put the chicken into the mix and make sure all sides of the chicken are covered with the breadcrumbs. Then keep the chicken aside.
3. In the meanwhile pre-heat a non-sticky griddle pan. When the pan is hot, reduce the heat and cook the chicken until the colour is gold and it looks crispy.
4. Adjust with salt and a drizzle of olive oil just before serving. Super easy and yummy!
TIPS & TRICKS:
- This recipe could be a good tip for a light, quick lunch.
- I suggest adding the salt only at the end to avoid the meat to get to stiff while cooking.
- A nice alternative is with turkey fillets.
- If you like a slightly stronger flavour, spread a hint of mustard on the chicken before rolling them into the breadcrumbs.
- It is nicely served with a fresh mixed salad and tomatoes, simply dressed with extra-virgin olive oil, balsamic vinegar and salt, and eventually some mixed seed on top.
'Buon appetito'!