Leek and potato velouté with three colours Goat's Cheese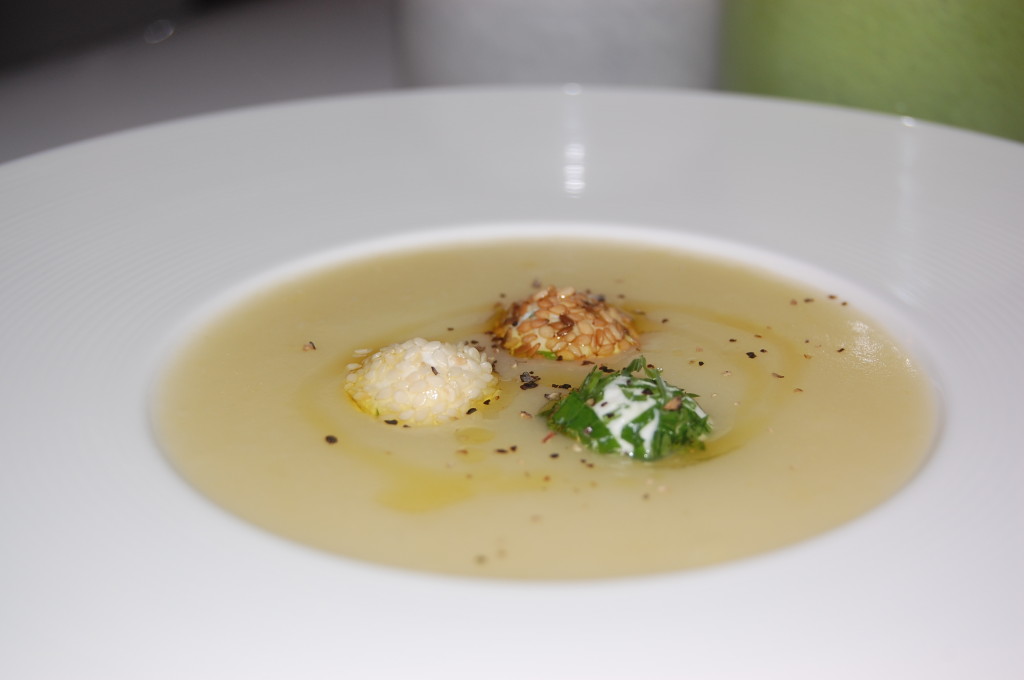 INGREDIENTS (x 8 persons):
- 2 big leeks
- 600 g medium white potatoes
- extra-virgin olive oil
- 1 vegetable stock cube
- salt/black pepper
To decorate:
- 1 handful of finely chopped parsley
- 1 handful of plain sesame seeds
- 1 handful of roasted sesame seeds
- 100 g of soft creamy Goat's Cheese
WHAT TO DO:
1. Start by roughly chopping the vegetables.
2. In a large deep saucepan, stew the chopped leeks in olive oil.
3. Then add the potatoes as well as the stock cube, which you just break in small pieces (unless you have it in powder). Cover with water, bring it to boil, and simmer for about 40 minutes until the vegetables get soft.
4. In the meanwhile prepare the small balls of goat cheese to decorate the dish. First, place the 2 kinds of seeds and the parsley in three different small plates. With your hands, take a little amount of goat's cheese and create a small ball. Roll the ball in one of the three 'covers' and put the ball aside. I made one of each kind for each plate.
5. When the velouté is done, make a purée from it with a blender. Correct the taste with seasoning, if necessary.
6. Serve it hot with a drizzle of olive oil, black pepper, and add the three different goat's cheese balls as the last step.
TIPS & TRICKS:
- If you want to get to a more creamy final result, you could add a teaspoon of single cream or plain yogurt per each dish.
- This dish can also be served with generous Parmesan if you like strong flavours. Otherwise with some crunchy bites of crusty smoke bacon or speck.