Involtini di vitello/Veal's rolls with cheese and ham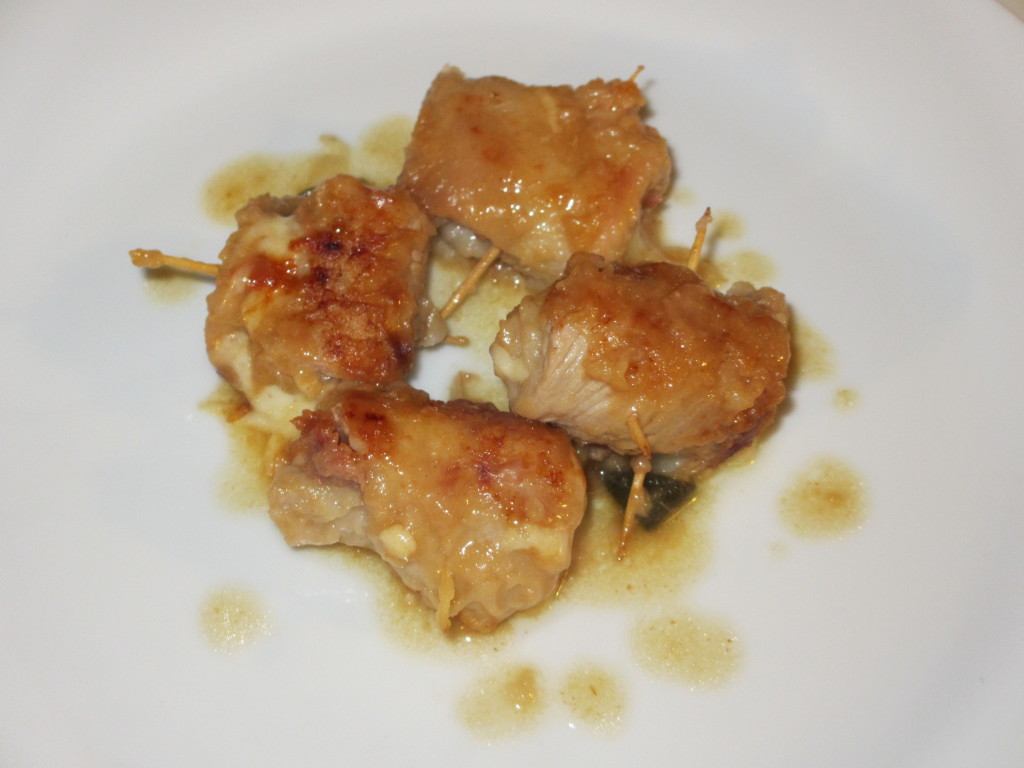 INGREDIENTS (x 8 persons):
- 600 g thin veal cutlets
- 100 g of Parma or S. Daniele ham, very thinly cut into slices
- 100 g of Italian Montasio cheese
- 3 tablespoons of not salty butter
- extra virgin olive oil
- a handful of sage leaves
- 3 glasses of dry white wine
- non raising plain flour '00' (to coat the veal rolls)
- wooden toothpicks
WHAT TO DO:
1. Firstly, hammer the veal cutlets into thin slices and then cut them in stripes of about 5 cm in size and 10 cm in length.
2. Slice the Montasio cheese thinly and cut the ham in small pieces. Place some cheese and ham on each veal stripe.
3. Then carefully roll the stripe and fix it with one or two toothpicks.
4. In a soup plate, pour some flour and 'coat' the veal rolls. Make sure the flour properly covers them.
5. In a deep saucepan melt 3 tablespoons of butter together with some olive oil and the sage leaves. Then sear the veal rolls – without any salt – on all sides. It will take few minutes to get them ready properly.
6. Add the wine. Keep on frying rolls at high heat , mainly to dry up the wine and to get the sauce up to a creamy one.
Serve it immediately.
TIPS & TRICKS:
- If you do not find the Italian Montasio cheese, you can substitute it with a medium Italian Pecorino cheese, a Cheddar cheese (not mature), or a Spanish Manchego.
- You should be able to find the ham – already sliced – in your local shops. It comes out nice if you use the smoked ham instead of the plain one as it gives an extra hint to your final taste.