Grilled aubergine wrap with ricotta and thyme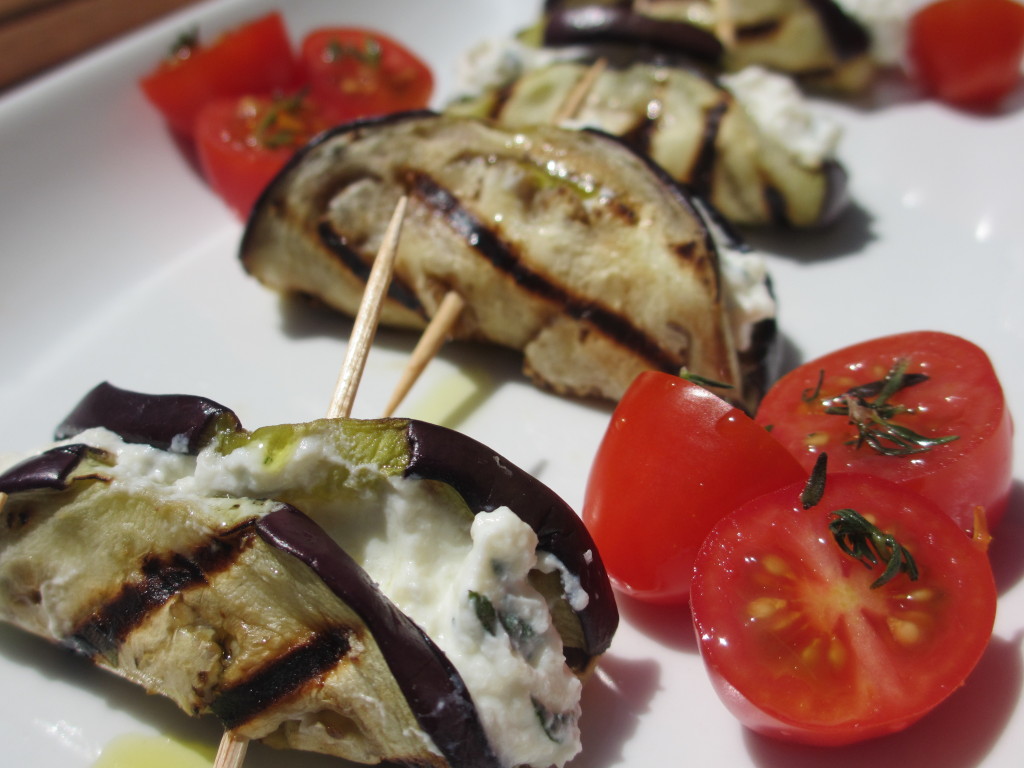 INGREDIENTS (x 6 persons):
- 2 long purple aubergines
- 100 g of Italian ricotta cheese
- 100 ml already-made tomato sauce
- extra virgin olive oil
- salt/pepper
- 1 large handful of grated Parmesan
- 1 handful of fresh thyme
- toothpicks
- some cherry tomatoes to decorate (optional)
WHAT TO DO:
1. Remove and discard some stripes off the aubergine skin. Cut the aubergines in about 1/2 cm slices and grill them in a hot non-sticky grill pan.
2. Lay the grilled aubergine on a baking tray covered with paper foil. Place on each slice half a teaspoon of tomato sauce, some ricotta cheese, a teaspoon of Parmesan, a pinch of salt and pepper, and 1-2 leaves of basil.
3. Then, make a wrap of the aubergine slice and fix it with a toothpick. Drizzle with some oil and serve them in a dish you have decorated with some cherry tomatoes and thyme.
TIPS & TRICKS:
- This is a nice, handy recipe to finish some leftover ingredients from previous dinners, such as the tomato sauce (check out the correspondent recipe). Alternatively, you can purchase an Italian already-made sauce which you should be able to find in your area.
- To grill the aubergine, you can also use a deep pan, which you pre-grease with just few drops of olive oil.
- If you do not like ricotta cheese, you can alternatively use a hard type of mozzarella, such as the cube size for pizza.
- If you want them warm, cook the au gratin in a pre-heated oven for few minutes. In this case, you can get a nice crust on top of your wraps by adding a drizzle of grated Parmesan before putting it into the oven.