Goat's cheese, roasted grapes & walnut bruschetta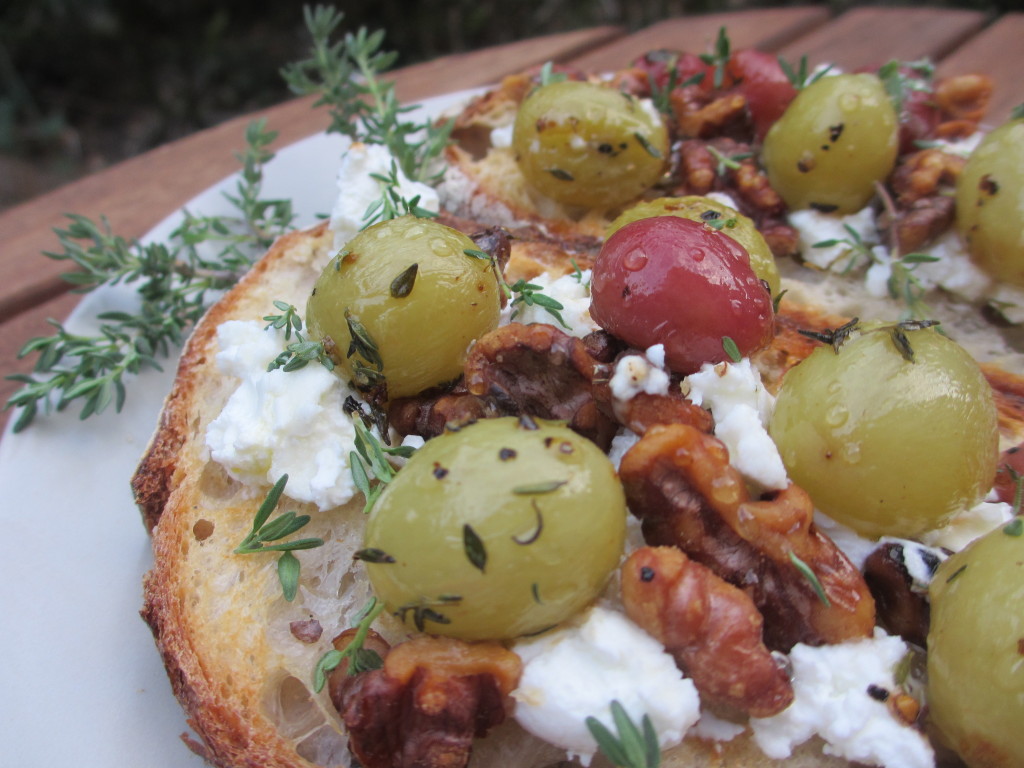 INGREDIENTS: (x 2 bruschette)
- 10 seedless grapes – any type
- 1 small handful of picked thyme leaves
- 1/2 clove of garlic
- extra virgin olive oil
- salt/ground pepper
- 10 walnuts, crushed into pieces
- 2 thick slices of sourdough bread
- 50 g of soft goat's cheese
- Acacia honey
WHAT TO DO:
1. Spread the grapes, cut into halves (alternatively as a whole) on a baking tray with a little bit of olive oil, salt and pepper, and almost all the thyme.
2. Place the tray into a pre-heated oven (180°C) for about 15-20 min until the grapes start to colour brown. When done, remove the tray from the oven and set it aside.
3. While the grapes are in the oven, toast the slices of bread and gently rub one side with a peeled side of a garlic clove.
4. Spread the goat's cheese on the same side as the garlic, add the roasted grapes as well as the crushed pieces of walnut. Drizzle the bruschetta with some olive oil and the remaining thyme.
5. As a last step, add a few drops of honey and serve it warm.
TIPS & TRICKS:
- This recipe is a light modification of its equivalent in "Polpo -a Venetian cookbook (of sorts)". My interpretation is a simpler version.
- You can either cook the grapes as a whole or cut them in halves. In this case they get softer.