"Farfalle " with King Prawns and fine asparagus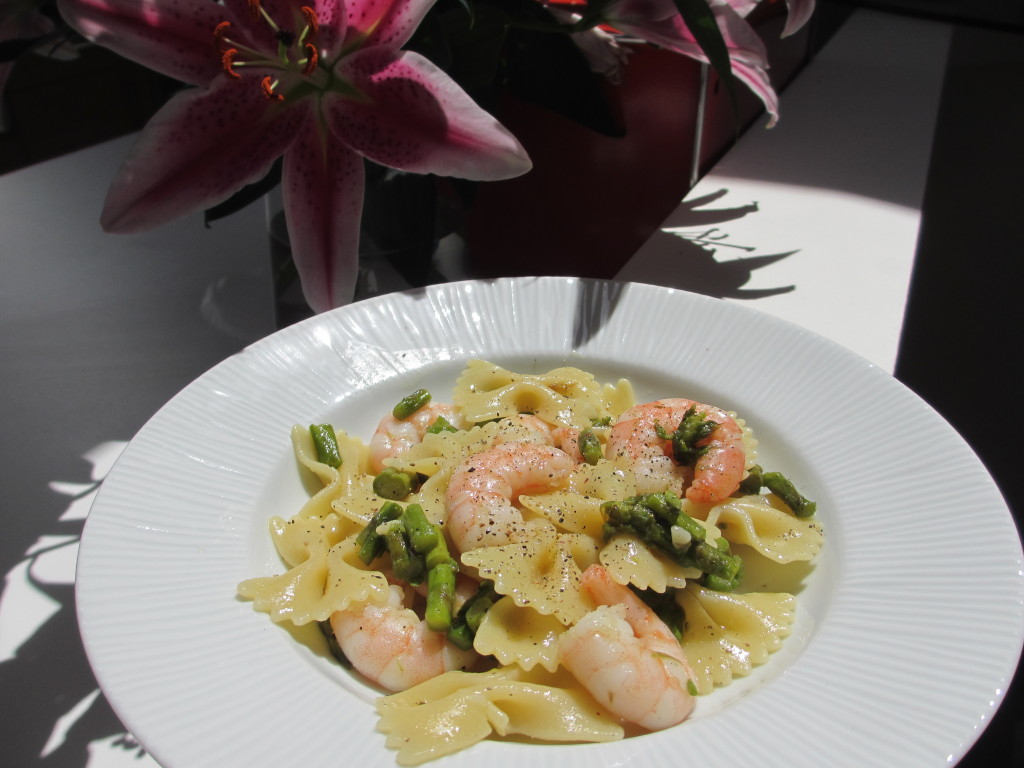 INGREDIENTS (x 2 persons):
- 160 g of Farfalle pasta
- 110 g fine asparagus
- 175 g large King prawns
- 1 small garlic clove
- 1 teaspoon of cognac
- extra virgin olive oil
- sea salt/fine salt/
- mixed grain pepper, freshly grounded
WHAT TO DO:
1. Wash the asparagus under running water and chop the sticks into smaller pieces.
2. In a separate wide saucepan gently pour some olive oil, stew the garlic clove and add the asparagus with a pinch of salt. Gently cook them with a lid for about 20 minutes until they are soft and tender. If the purchased prawns are fresh, quickly pan-fry them with a slug of olive oil and a drizzle of cognac in a separate small non-sticking pan. Let the alcohol dry out and turn the heat off. It really takes a few minutes.
3. Then, add the king prawns to the asparagus, still keeping them off the fire. Adjust the flavour with a generous amount of pepper.
4. In the meanwhile bring the water for the pasta to boil, add a handful of sea salt and boil the pasta for about 10 min (until 'al dente'). Please remember to check out the cooking time of the pasta plastic bag as it can differ among brands.
5. When the farfalle are ready, drain them from the water and mix them with the asparagus and prawn sauce. Serve it immediately with some more pepper.
TIPS & TRICKS:
- This is a quick and easy recipe to arrange as a last-minute meal with your friends
- If you are not able to find the fresh king prawns at your local supermarket, you can use the already boiled ones. In this case the only thing to do is to throw the prawns into the asparagus sauce when they are almost ready. At this point add the cognac and let it dry out before switching the fire off.