Courgette flowers in the oven with ricotta and anchovies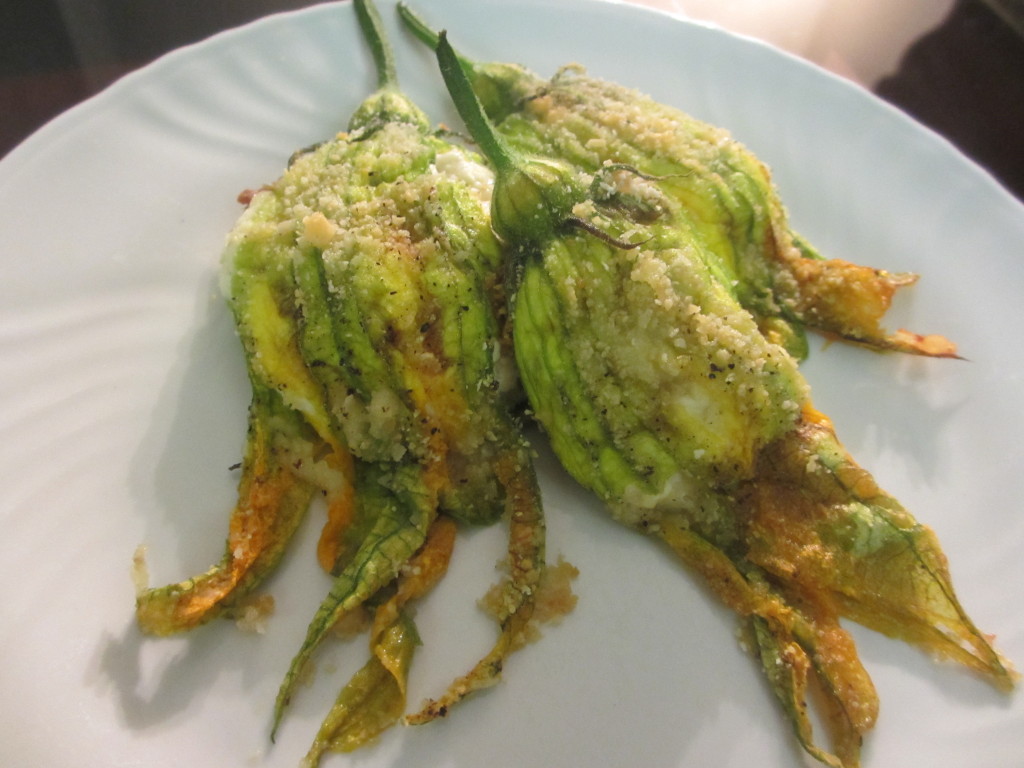 INGREDIENTS (x 5 persons):
- 10 big courgettes flowers
- 200 g ricotta cheese
- 3 tablespoons of grated Parmesan
- 3 tablespoons of plain breadcrumbs
- extra-virgin olive oil
- black pepper
- 3 anchovies, in oil
WHAT TO DO:
1. Before you start, warm up the oven at 160°C.
2. Wash the courgette flowers under running water, making sure not to break them – they are fragile! Discard the central pistil of each flower and place it to drain in a colander.
3. In the meanwhile, mix the ricotta cheese with the Parmesan in a deep bowl and add some black pepper. Cut the anchovies in small pieces.
4. Take one flower at a time and fill it with a little piece of anchovy and 2-3 teaspoons of ricotta mix.
5. Then close the stuffed flower with you hands by putting together the flower petals tips. Place the flowers on an oiled baking tray.
6. When finished with all the flowers, spread on top of them some breadcrumbs with a sprinkle of parmesan and a drizzle of olive oil.
7. Cook the flowers in the oven for about 10 minutes. Switch the oven to 'grill' and make them take some colour, which takes a few extra minutes. Eat them warm.
TIPS&TRICKS:
This recipe is a lighter version of a traditional Roman starter. The dish is  done by using mozzarella cheese instead of ricotta. It also uses 'pastella' (a kind of flour-basted mix) to fry. Different but delicious anyway!