Chicken thighs with 'Pancetta' and potatoes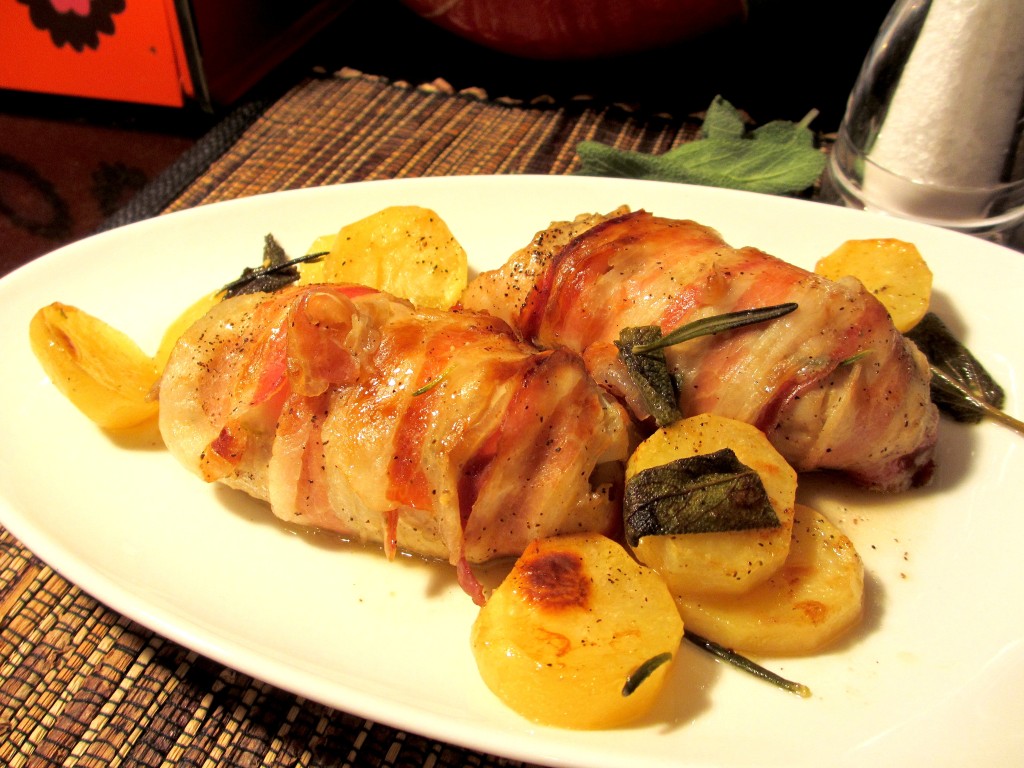 INGREDIENTS (x 2 persons)
- 4 organic chicken thighs (around 500g)
- 8 thin slices of Italian Pancetta ham (or Bacon)
- 4 teaspoons of Dijon mustard
- 4 big potatoes
- 1 garlic clove, thinly sliced
- a handful of sage leaves
- rosemary
- 1 glass dry white wine (Sauvignon Blanc)
- extra virgin olive oil
- salt/ground black pepper
- mixed roast herbs (if available)
WHAT TO DO:
1. Peel the potatoes, wash them in cold water and chop them in fairly large chunks.
2. Wash and peel off the chicken tighs' skin, making sure you remove the excess fat. Make a few small cuts in the chicken and gently spread with your hands a teaspoon of mustard on each piece.
3. Now wrap each thigh with two slices of Pancetta and place it on a baking tray on a previously oiled kitchen paper. Add the chopped potatoes and season them generously with salt/pepper, sage and rosemary, and the slices of garlic. If available, season the potatoes with the roast herbs. Sprinkle everything with olive oil first, and the glass of wine later.
4. In a pre-heated oven at 180° degrees cook the dish for about 45-50 minutes, making sure you use some of the sauce coming out from the chicken thighs. When ready, eat immediately.
TIPS & TRICKS:
- This is an easy recipe and very tasty.
- I have chosen for the Dijon mustard as it is stronger than other kinds of mustard, but it is up to you to go for something less strong.
- Be generous with the herbs and dressing. They get into the chicken and flavour the potatoes as well!