Chicken escalopes with balsamic vinegar cream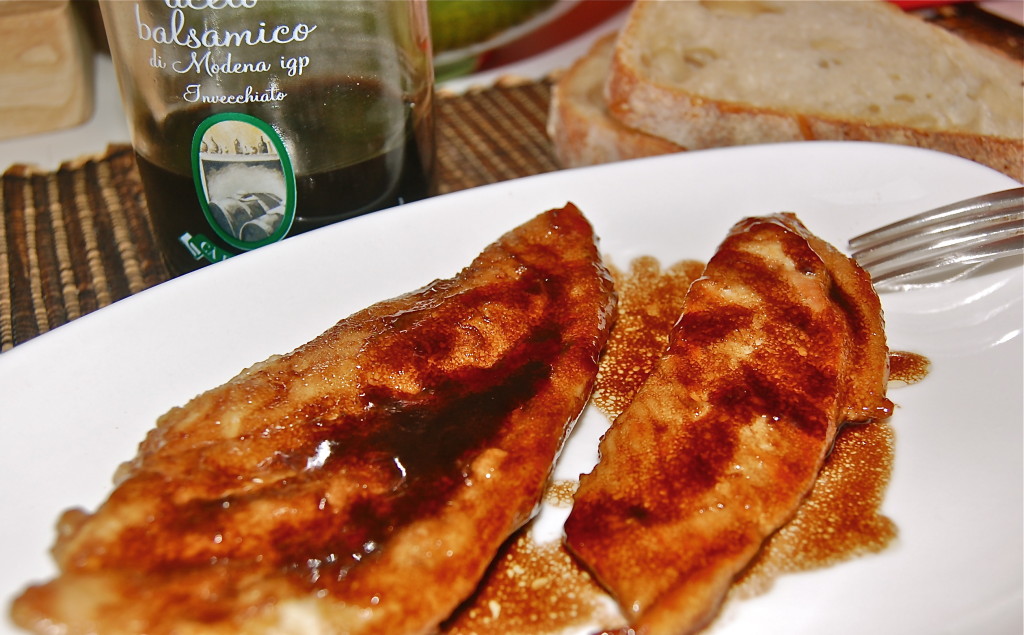 INGREDIENTS: (x4 persons)
- 4 chicken breasts, thinly sliced
- 300 g of plain non-raising flour ('00')
- extra virgin olive oil
- salt
- 2 glasses of dry white wine
- 1 glass of balsamic vinegar
WHAT TO DO:
1. Put the flour into a deep bowl and roll the chicken slices until fully covered with flour on both sides.
2. Heat some olive oil in a pan, add the chicken, and pan fry it with a pinch of salt (to be added at the end).
3. When slightly brown, pour the white wine and let it dry up at high heat.
4. Finally, pour the balsamic vinegar and cook it for a few minutes at low heat until you get a creamy sauce.  Serve it immediately.
TIPS & TRICKS:
- The balsamic vinegar  is easily found in local shops in towns like London. If not available where you cook, try this recipe without it, maybe adding extra wine to the sauce in order to get a stronger wine flavour.
- You can also make the dish some time before your dinner and warm it up before serving. For the best result, I would suggest to make it last minute and serve it immediately as the sauce tends to reduce and the meat risks to get too dry.