'Arrosto al latte' /Milky creamy stewed meat in a roll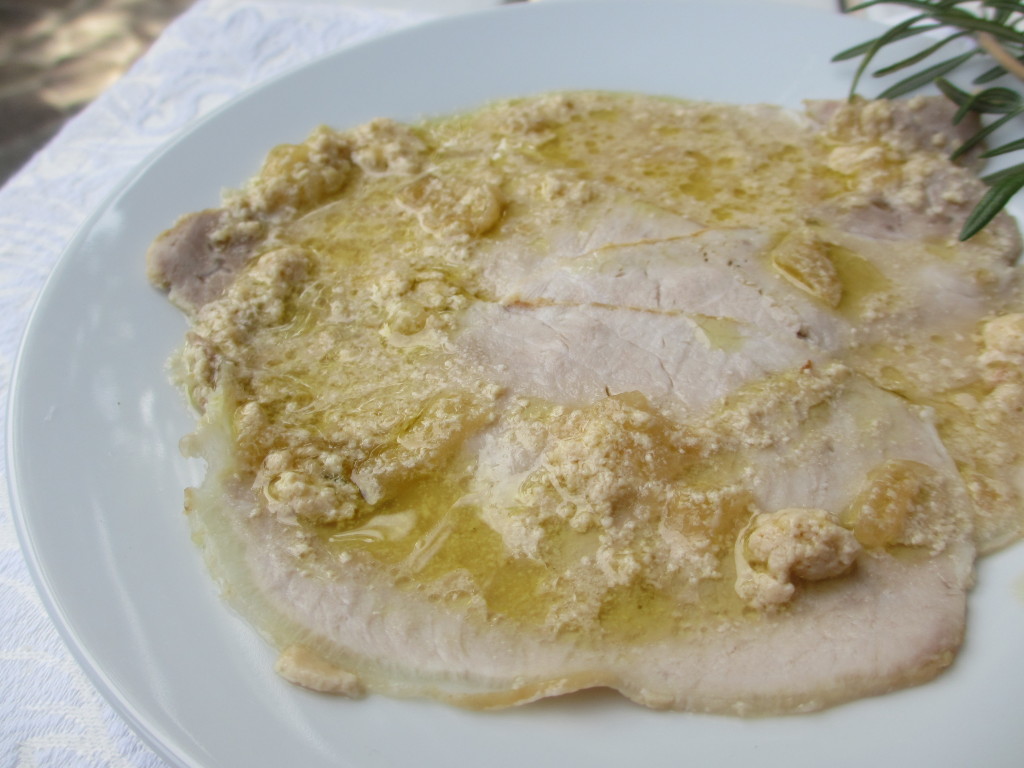 INGREDIENTS: (x 8-10 persons):
- 1 kg pork loin in a roll
- 2 onions, roughly chopped in big chuncks
- 1 liter fresh whole milk
- 1 tablespoon unsalted butter
- extra-virgin olive oil
- 1 glass dry white wine
- 1 garlic clove
- salt
- 2 or 3 rosemary branches
WHAT TO DO:
1. Place the onions and the garlic in olive oil in a deep saucepan,. Add the rosemary, the meat and pan-fry it on all sides at high heat while covering the pan with a lid.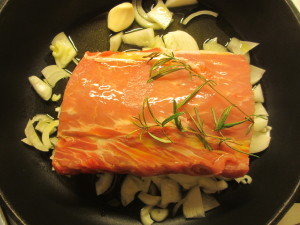 2. Adjust with salt after roasting and then add the white wine. Make sure the wine burns off at a lower heat and without the lid, then take the garlic clove and the rosemary out from the pan and add the milk.
3. Slow down the heat and let it gently cook, stirring from time to time, until you get a creamy and dense sauce (it will take about 30-40 minutes).
4. When ready and cooled down, place the meat in a separate container or Tupperware box and keep it in the fridge for at least 2-3 hours. The sauce will stay in the sauce pan to be heated separately.
5. About ½ hour before serving, warm up the meat sauce.
6. Take the piece of meat out from the fridge and cut it into thin slices (1-2 mm), which you will place, carefully, on a serving plate.
7. Gently pour the sauce on top of your meat slices and serve it warm.
TIPS & TRICKS:
- Warning: This recipe is originally based on pork loin, but it can turn out difficult to find in your supermarket. Perhaps a local butcher can give you a good piece of pork loin. I have tried to do this recipe with a veal shoulder roll, and it didn't come out nicely at all. So please keep in mind that you cannot do it unless you find the right meat, pork loin in a roll.
- This recipe requires a lot of time so I would suggest to make it the night before and keep it in the fridge overnight.
- It is easier to slice the meat when it is very cold and stiff. Slice it up an hour before your lunch/dinner and then let it stay at room temperature to gently warm up.
- If you like it warm, you can add the slices to the sauce and heat it up altogether meat and sauce.
- Get an even better results if you roast some potatoes and put them on the side of the dish.