'Orecchiette' pasta with broccoli, anchovies and 'pan tostato'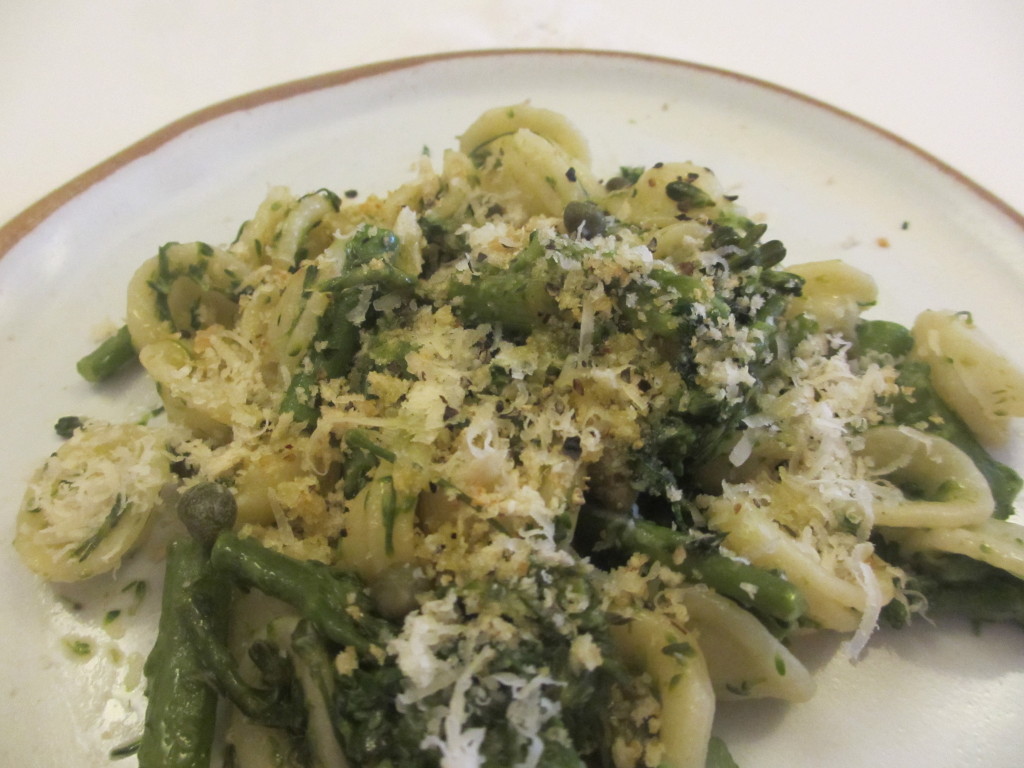 INGREDIENTS: (x4 persons)
- 300 g of orecchiette pasta
- 200 g tender stem broccoli
- 5 anchovies fillets
- 2 garlic cloves
- salt/sea salt/black pepper
- extra virgin olive oil
- 1 large handful of grated parmesan
- 3 tablespoons of small capers
For 'pan tostato':
- 150 g of plain breadcrumbs
- 1 tablespoon extra virgin olive oil
- freshly-ground black pepper
- 1 tablespoon of grated parmesan
 WHAT TO DO:
1. Wash the broccoli and break it in smaller pieces. Trim and finely chop the stems, making sure you discard any hard portion.
2. Take a deep saucepan and toss the broccoli and their chopped stems with a pinch of sea salt and cook them until tender but still a little crunchy. By the way, you can use the same pan later to cook the pasta.
3. When ready, switch off the fire and take the broccoli out of the water. Cover the saucepan with the lid to keep the water warm. Keep the veggies in a separate bowl.
4. In the meanwhile, stew the garlic cloves in a generous amount of olive oil. When golden, take the pan out from the fire and gently melt the anchovies into the hot oil, pressing them with a wooden spoon.
5. Add the broccoli and put back the pan onto the fire. Let it cook for 10-15 minutes until the broccoli get enough flavour from the anchovy base.
6. Put the water back to boiling and when ready toss the orecchiette. Gently stir from time to time to avoid sticking and check the cooking time for 'al dente' result.
7. In the meanwhile, take a non-sticky frying pan and mix all the ingredients for pan tostato. Put the pan on the fire and, while continuously mixing, panfry this mixture until golden and crispy (watch out as it takes few minutes to get ready!). Take it out from the heat as soon as it is ready in order to avoid burning.
8. When the orecchiette are ready, discard the water and mix the pasta with the broccoli base.
9. Before serving, add on each portion about two tablespoons of pan tostato, a teaspoon of capers, a sprinkle of parmesan, ground pepper and a drizzle of olive oil to finish. Fantastic!
TIPS & TRICKS:
- This is one of my favourite dishes and it comes directly from Puglia, my mum's region, as a typical dish from Bari. You will love it!
- Please remember to cook the pasta in the same water you have used for the broccoli. This detail gives a special flavour to your dish!
- The anchovies are nice when combined with the broccoli, in small quantities, but can be avoided if you do not particularly fancy them. Same story for the capers.
- If you cannot find the tender stem broccoli, a nice alternative is with regular broccoli. In this case you need to trim, peel and cut them with extra attention to discard the hard portions.