Crostata with cream, strawberries and raspberries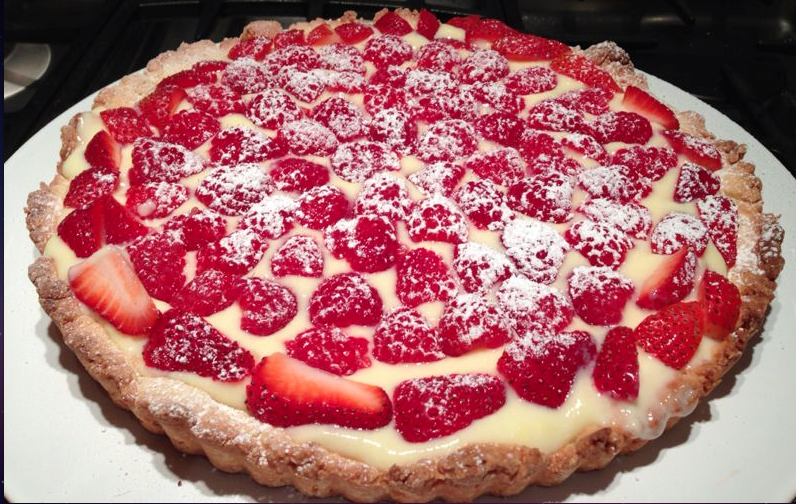 INGREDIENTS (x 6 persons)
For the cream (check recipe 'crema pasticcera')
For the dough
- 250 g non-raising plain flour ('00')
- 100 g unsalted butter, diced
- 100 g caster sugar
- 2 eggs (1 whole egg and 1 egg yolk)
- 1/2 organic lemon zest
- salt
To decorate
- 250 g raspberries and strawberries
- 2 tablespoons of confectioner's  (superfine) sugar
WHAT TO DO:
1. In a large bowl mix 250g flour with a pinch of salt, 100 g of sugar, the grated zest of 1/2 lemon, and the cold- diced butter. Mix until the dough turns into crumbles.
2. Add 1 whole egg and 1 egg yolk, mix quickly until smooth.
3. Wrap the dough with a transparent food wrap cling film and let it rest in the fridge for 30 minutes.
4. In the meantime prepare the crema pasticcera and let it cool down in a separate deep pan.
5. Pre-heat the oven at 200° C.
6. Roll the dough on a 22 cm baking pan, make tiny holes with a fork, cover it with parchment paper and, on top of it, put the dry beans. (The objective is to let it cook without drying. I used rice in absence of any beans).
7. Let it bake for 20 minutes, take away the beans and the parchment paper and continue baking for 5 more minutes.
8. Let the crust cool down.
9. Transfer the crust on a serving plate. Cover with the crema pasticcera, decorate with the fruits, and sprinkle on top a generous amount of confectioner's sugar. Enjoy!
TIPS & TRICKS:
- This recipe comes out very nicely with any kind of fruit. The more you put on top, the better! (Thanks Manu for helping me out!)
- A richer version of the basic crema pasticcera is crema Chantilly, which you can purchase in some local shops or get to it by adding some whipped cream to your crema pasticcera.