Asparagus RISOTTO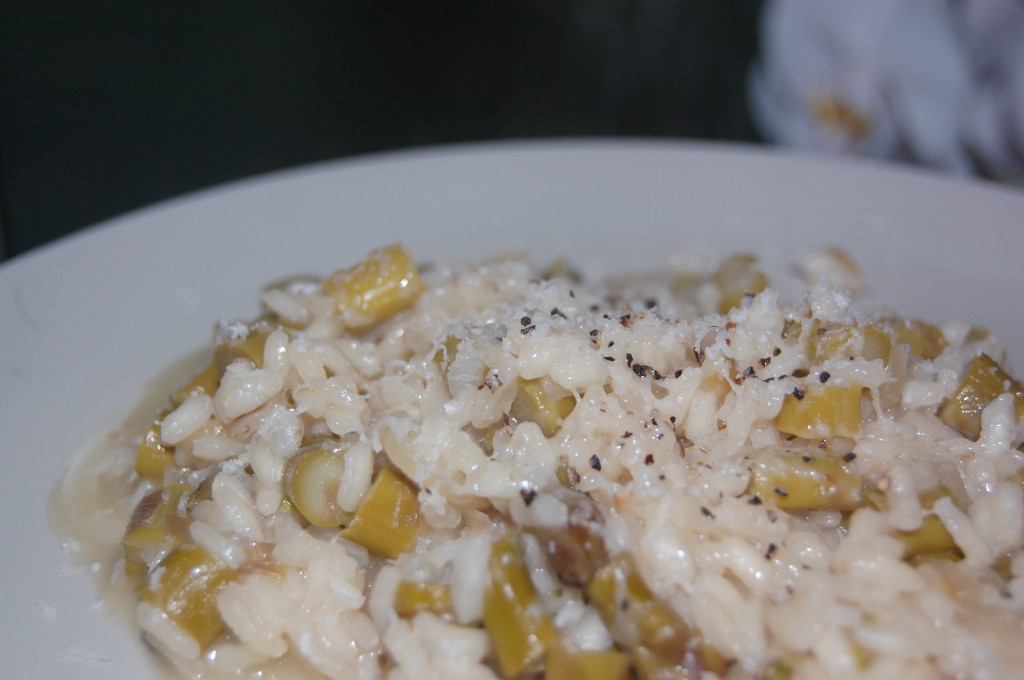 INGREDIENTS (x 4 persons):
-  1 large white onion (or 2-3 shallots), finely chopped
-  extra virgin olive oil
-  1 glass of dry white wine
-  1 liter of hot vegetable or chicken stock
-  a large bunch of thin green asparagus
-  320 g of risotto rice (Vialone Nano or Carnaroli type)
-  40 g of unsalted butter
-  salt, ground pepper
-  1 rich handful of freshly grated Parmesan
-  1 handful of fresh parsley, thinly chopped
WHAT TO DO:
1. As a first step, chop the asparagus into small pieces after cutting off and discarding the woody stalks of the spears. Keep the tips of the asparagus separate. Few of them could be used to decorate the dish.
2. In a deep, heavy-based saucepan, sweat the onion in olive oil plus 10-20g of butter over a low heat, until they get soft and slightly brown (10-15 min).
3. Add the asparagus with a pinch of salt and let them steam until soft and tender. The asparagus tips should be added slightly after you are cooking the chopped spears  as they cook more quickly. This procedure will take you around 20-30 min according to the stiffness of the asparagus.
4. When the risotto base is ready, add the rice and the white wine. Let it dry out over a medium-high heat.
5. Add 1 or 2 spoons of stock, just to cover the rice, stir and put the fire low. Keep on adding the stock and stirring. Never let the risotto base absorb all the stock. Continue this way for about 20 min until the rice is soft, tender and creamy while the grains are still firm in the centre.
6. Add the remaining butter and some Parmesan, stir it and let it rest for few minutes out of the heat.
7. Serve it on large plates, grate some extra Parmesan on top, as well as some ground pepper and a few heads of asparagus for decoration.
8. Finish with ground pepper and parsley.
TIPS & TRICKS:
- To shorten the procedure of preparing the risotto base, you can quickly blanch the asparagus spears in hot boiling water for few minutes and rinse them in cold water.
- Substitute the chicken or vegetable stock with stock cubes in hot boiling water to have a quickly-made bouillon.
- As a variation, if you want to give to the dish some extra flavour, add on top of the risotto a single slice of thin prosciutto S Daniele or Parma.